2 Serving Paleo Chocolate Mousse
This mousse is smooth and creamy and ultra rich. The chocolate flavor is intense–for serious chocolate lovers only. If you're not a dark chocolate lover, sub the 100% chocolate for a sweetened paleo chocolate of your choosing. I'll try not to judge you for it.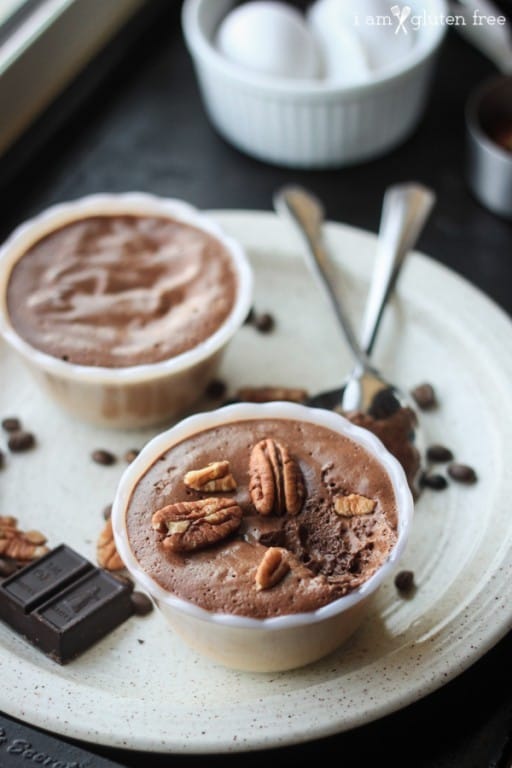 Ingredients
2 tablespoons honey (for a very bittersweet, intense chocolate mousse, use only 1 tablespoon)
4 ounces of 100% chocolate
3 tablespoons water
1 tablespoon cocoa
½ teaspoon espresso powder (optional)
2 pasteurized eggs or eggs that you feel you can safely eat raw. I used chicken eggs fresh from our chicken house.
1 tsp maple syrup or melted honey
1½ tablespoons thick coconut milk (I used the hardened fat from refrigerated canned coconut milk but any thick coconut milk should work)
¼ teaspoon cream of tartar
Directions
Put the honey, chocolate, water, cocoa, and espresso powder in a bowl. Place over a small saucepan filled with about 1 inch of barely simmering water. The bottom of the bowl should not touch the water. Stir the chocolate mix frequently as the chocolate slowly melts. It's important to keep it at a low temperature because the chocolate burns very easily.
As the chocolate melts, separate the eggs into two bowls.
Beat the egg yolks with the maple syrup or honey until light colored and thickened (about 1 minute).
Gently pour the melted chocolate mixture into the beaten egg yolks and beat until smooth. Stir in the coconut cream.
Clean off your mixers, then beat the egg whites and cream of tartar until thick and foamy with soft peaks, meaning that when you pull the mixers out of the egg whites, the egg whites stand up yet still fold down a little bit.
Spoon about a quarter of the egg whites into the chocolate/egg yolk mixture and stir until combined.
Using a rubber spatula, very gently fold the remaining egg whites into the chocolate/egg yolk mixture. Continue to fold until no streaks remain.
Spoon the mousse into 2 individual dishes or ramekins. As you can see in the images, the dishes I used were rather small, so I actually had 3 mousses, not 2. But if you use regular sized ramekins you should have two servings.
Refrigerate at least 1 hour before eating. You can have these with nuts or whipped cream (if you eat dairy) or plain.