AIP Salted "Chocolate" Cream Pie
http://www.grazedandenthused.com/#!AIP-Salted-Chocolate-Cream-Pie-Ottos-Cassava-Flour-Giveaway/cu6k/54fc6e820cf27b8ab24760ff
Serves 6-8 | Cook Time 40 minutes | Sets in fridge 3 hours
Coconut-Free Paleo Version
I promised a reader that I would provide suggestions for a coconut-free version of this pie!  I do not know of a Paleo coconut-free whipped cream though! I have not made this version of the pie, but from my experience with Paleo baking, I believe these suggestions will yield a similar result – possibly even tastier with the use of ghee!
– Replace palm shortening/coconut oil 1:1 with ghee
– Steam sweet potatoes for 15 minutes. Remove water from the pan and toss the cooked sweet potatoes, honey, and 1/4 cup ghee or lard in saucepan until it comes to a low boil. Let simmer for 5 minutes. Proceed with step 8.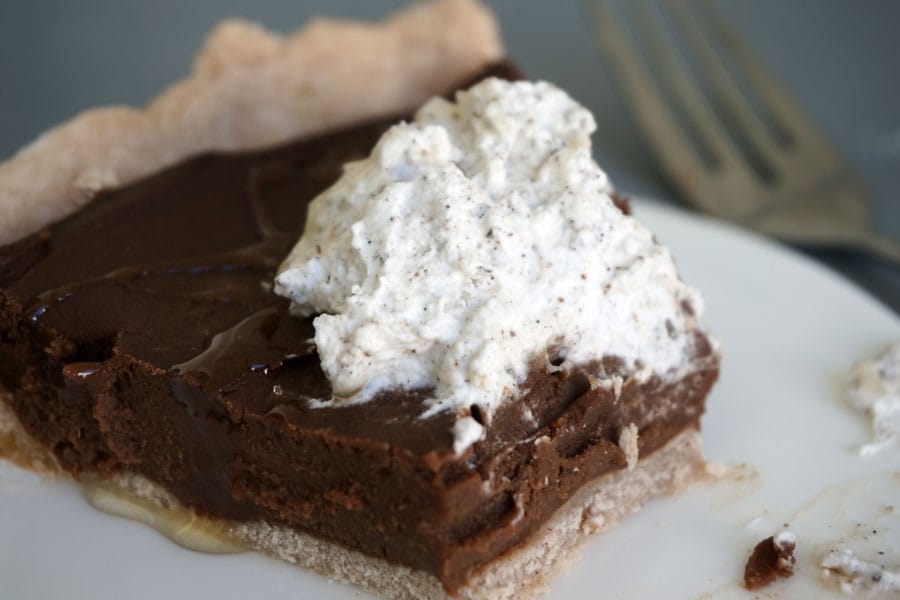 Ingredients
AIP Salted "Chocolate" Cream Pie: 1 lb Japanese yam, peeled and chopped into ½ inch cubes*
15 oz Coconut milk (full-fat)
3 T Honey
1 cup Otto's cassava flour
¼ tsp Sea salt
½ tsp Cinnamon
½ cup Spectrum all-vegetable shortening or coconut oil
8 T Ice water
½ cup Carob powder
1 T Coconut oil
½ tsp Sea salt
1 tsp Gelatin
For Serving: 1/2 tsp Flaked sea salt and Smoked Sea Salt & Vanilla Whipped Cream (Vanilla reintroduction required)
*Japanese yam is a white flesh sweet potato with purple skin. It has a mild taste and starchier texture than regular yams, which cannot be substituted here. You can try other varieties of white sweet potato, but they may not be as creamy.
Smoked Sea Salt & Vanilla Whipped Cream: 7 oz Coconut cream, cold
1 tsp Gelatin
1/4 tsp Smoked sea salt
1/2 tsp Vanilla bean powder (for AIP use vanilla powder)
Directions
Pie: Preheat oven to 300 degrees.
Combine the sweet potatoes and coconut milk in a medium saucepan. Bring to a low boil over medium heat and cook uncovered for 10 minutes. Stir in the honey and continue cooking for 8 more minutes. Remove from heat and set aside.
Cut palm shortening or coconut oil into small chunks and freeze on a large plate for 15 minutes while sweet potatoes cook.
Place cassava flour, ¼ tsp sea salt, cinnamon, and cold palm shortening or coconut oil in food processor. Pulse 20-30 times until the mixture looks crumbly. Add ice water in 2 T at a time, pulsing 10 times in between each addition, until a moist and crumbly dough forms.
Spoon dough into a glass pie dish. Press the dough firmly and evenly into the bottom and up the sides of the pie dish. Poke 10-15 holes into the bottom of the crust with a fork. Bake for 16 minutes. Increase oven temperature to 350 degrees and bake for another 7 minutes. The pie crust will rise slightly and be a light golden brown when finished.
Clean food processor and add all of the sweet potatoes and coconut milk from the saucepan along with the carob, coconut oil, ½ tsp sea salt, and gelatin. Process for at least 30-45 seconds until pureed and silky smooth.
Pour carob cream filling into baked pie crust and smooth with a rubber spatula. Place in refrigerator at least 3 hours to set.
Serve sprinkled with flaked sea salt and dollop of Smoked Vanilla Whipped Cream (or your preferred whipped cream recipe).
Cream: Using a hand mixer, whip coconut cream for 3-4 minutes. Stir in gelatin, smoked sea salt and vanilla, and whip for another 1-2 minutes until fluffy. Keep refrigerated until ready to serve.