An AIP-riff on a French-Canadian classic, Sugar Pie. These two-bite individual treats are fun to make for a weekday treat or small gathering. A crunchy, warm pie crust made from sweet potato flour (buy it on Amazon – it's amazing and so easy to bake with!) topped with a creamy, sweet caramel filling made from mashed sweet potato & topped with whipped coconut cream if you'd like. A special treat that's unique and full of nutrients.
See the full blog post at Grazed & Enthused http://www.grazedandenthused.com/#!Tartelette-au-Sucre-AIP-Friendly/cu6k/9B87AEAC-1946-4651-939F-DBB46C6EE03A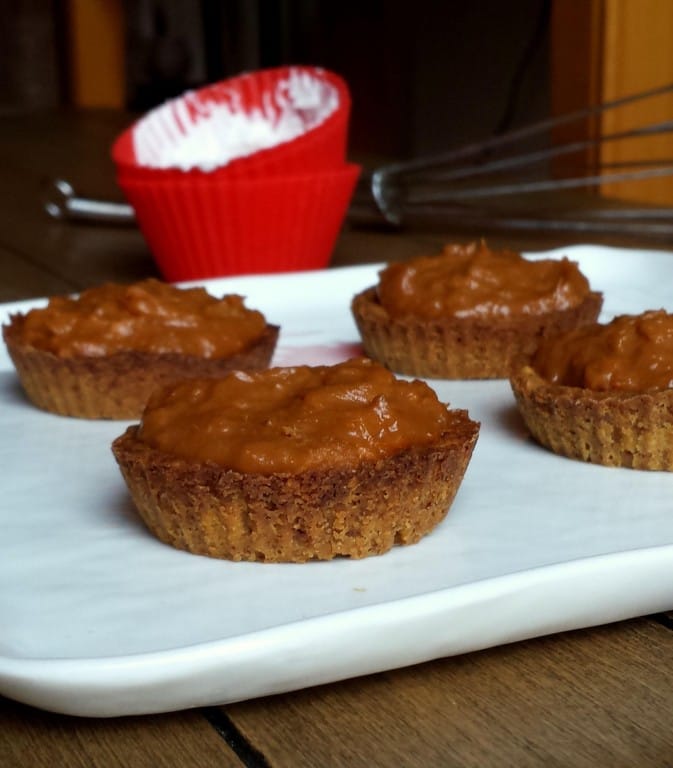 Ingredients
Ginger-Graham Crust: 1 T coconut sugar or raw honey, 1 tsp grated fresh ginger, 1/8 tsp fine sea salt, ¼ c + 1 T sweet potato flour, 1 T + 2 tsp tapioca starch, 3 T coconut oil, melted
Caramel-Sucre Filling: 2 T cold water, 2 T coconut sugar or raw honey, 1 T coconut oil (or ghee if you do dairy), ¼ cup well-mashed sweet potato (orange variety) 2 T coconut cream (from top of coconut milk can), divided, Whipped coconut cream (optional)
Directions
Line a muffin pan with 5 silicon muffin liners. Preheat oven to 350 degrees.
Combine coconut sugar (or honey), sweet potato flour, tapioca starch and salt in a mixing bowl. Stir in ginger and melted coconut oil and mix well until fully combined and a moist flour forms.Press about 1 T flour into muffin cups creating a shallow "bowl". Make sure the bottom and sides are even thickness to ensure proper/even baking.
Bake on 2nd lowest rack for 9 minutes until lightly golden brown. Make sure not to let it bake too long or they will crumble.Remove liners from pan (but not the crusts from the liners yet!). Set aside to cool while you prepare the pie filling below.
In a small saucepan, bring water and coconut sugar/honey to a low boil. Let bubble for 2 minutes while whisking continuously.Now stir in coconut oil or ghee and only 1 T coconut cream and return to a low boil. Tilt pan towards you and continue to whisk until the mixture thickens to a melted caramel thickness (1-2 minutes).
Add in the mashed sweet potato and whisk vigorously to emulsify. There should be no clumps.Remove from heat and whisk in remaining 1 T coconut cream until smooth.
Place 1 T pie filling into cooked crusts and smooth it down with back of a spoon. Leave a little crust perimeter.
Freeze for 30 minutes in the silicone liners. Remove from freezer and serve with fresh whipped coconut cream, if desired.