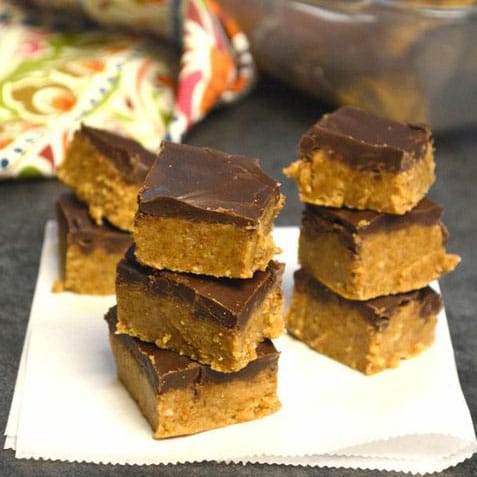 Ingredients
1/2 cup almond butter
½ cup clarified butter or coconut oil
1 ¼ cup blanched almond flour
1 ¼ cup organic coconut sugar
1 ½ cup dark chocolate chips
2 tablespoons almond butter
Directions
In a medium bowl, stir together the almond butter, butter, almond flour and sugar until it is completely combined. Press the mixture evenly into a 9"­inch square baking dish.
In a microwave safe bowl, add the chocolate chips and 2 tablespoons of almond butter. Melt in the microwave for 10-20 seconds, stir and repeat until the chips are completely melted.
Pour the melted chocolate over the almond butter base and spread it into a thin layer.
Refrigerate for at least 1 hour before serving. Cut into 32 bars and serve chilled.