Apple Banana Berry Baked French Toast
Slice up your apples as small or large as you want them. I cut mine into 1/8th's. In a skillet, heat the coconut oil and sautee the apples with cinnamon to taste until slightly browned. Set aside.
Combine the cococnut flour, salt, baking soda, and cinnamon. In a separate bowl, beat the eggs into the mashed bananas and add the coconut milk and vanilla. Add the dry ingredients to the wet and stir until just blended. Fold in the berries.
In a large, greased baking dish (9 x 13), arrange the sauteed apples. Pour the batter over top. Do not stir, just let it settle.
Bake at 350 degrees for 45-55 minutes, until a knife inserted comes out clean and the top is golden brown.
Top with additional berries, butter, and maple syrup.
[ingredients]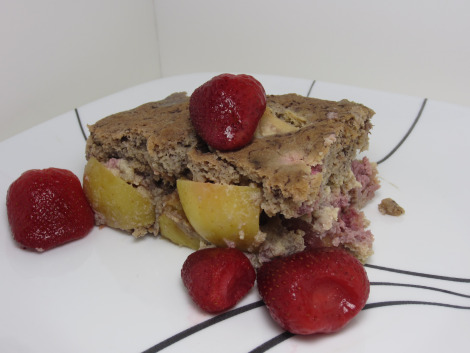 Ingredients
6 Apples (I used Golden Delicious)
2 T Coconut Oil
1/2 c Coconut Flour
8 Eggs
1/3 c Full Fat Coconut Milk
4 Mashed Bananas
1 c Raspberries
1 t Baking Soda, 1 t Salt
1 T Vanilla
1 T Cinnamon