Mix all ingredients together in a large bowl, adding a bit of almond milk to make a pancake consistency.
Preheat a large non-stick frying pan, then melt a bit of coconut butter in it.
Cook as you would regular pancakes (but try to spread them out a bit so they are easier to flip – I measure out 1/4 cup for each pancake).
I freeze leftovers and put them in my lunch for coffee break 🙂
I served mine with locally-made maple butter (maple syrup cooked to a thick consistency – not a dairy product)… it is awesome ! Check it out at www.robinsonmaple.com
[ingredients]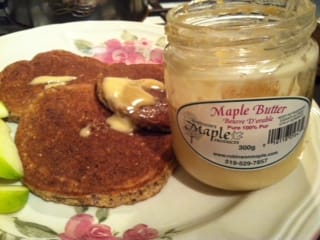 Ingredients
1 small apple, grated
1/2 cup almond meal
1/4 cup hazelnut meal (or other ground nuts)
2 tbsp. ground flaxseed
2 whole eggs
4 egg whites
2 tbsp. coconut milk
1/2 tsp. baking soda
cinnamon to taste
almond milk (or coconut milk) to thin-out