We like to serve this porridge in many ways, but it is amazing topped with cinnamon apples and goat yogurt!
https://ipseityincandescent.wordpress.com/2015/02/19/teaching-presence-clean-eating-resources-2/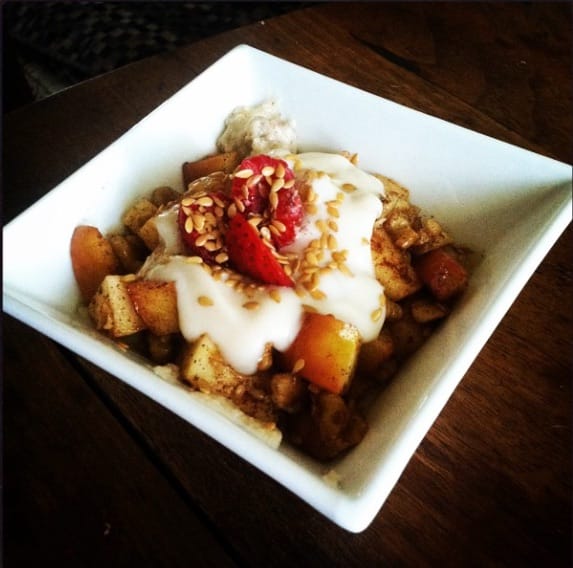 Ingredients
Porridge: 1/2 Banana, Mashed 1/2 Cup Coconut or Almond Milk (Unsweetened) 1 TBS Organic Butter OR Coconut Oil 1/3 Cup Almond Flour / Meal 1 TBS Flaxseed Meal Sea Salt, to taste
Cinnamon Apple Topping: 1/2 Gala Apple, Diced 1 TBS Organic Butter OR Coconut Oil Dash Cinnamon and Nutmeg Sprinkle Sea Salt
Directions
Combine Banana, Coconut Milk and Butter in a medium sized saucepan over medium heat.
Bring to a gentle simmer, then add Flour, Meal and Sea Salt.
Turn heat to low; cook approximately five minutes. (Add more milk for a thinner consistency, or more flour for a thicker consistency.)
Serve with fruit of choice, yogurt if non-dairy free, and cold milk of choice.
While porridge is simmering, heat butter in a skillet over medium-high heat.
Add apples and spices, and sauté until caramelized
Set aside to top porridge. Serve immediately.