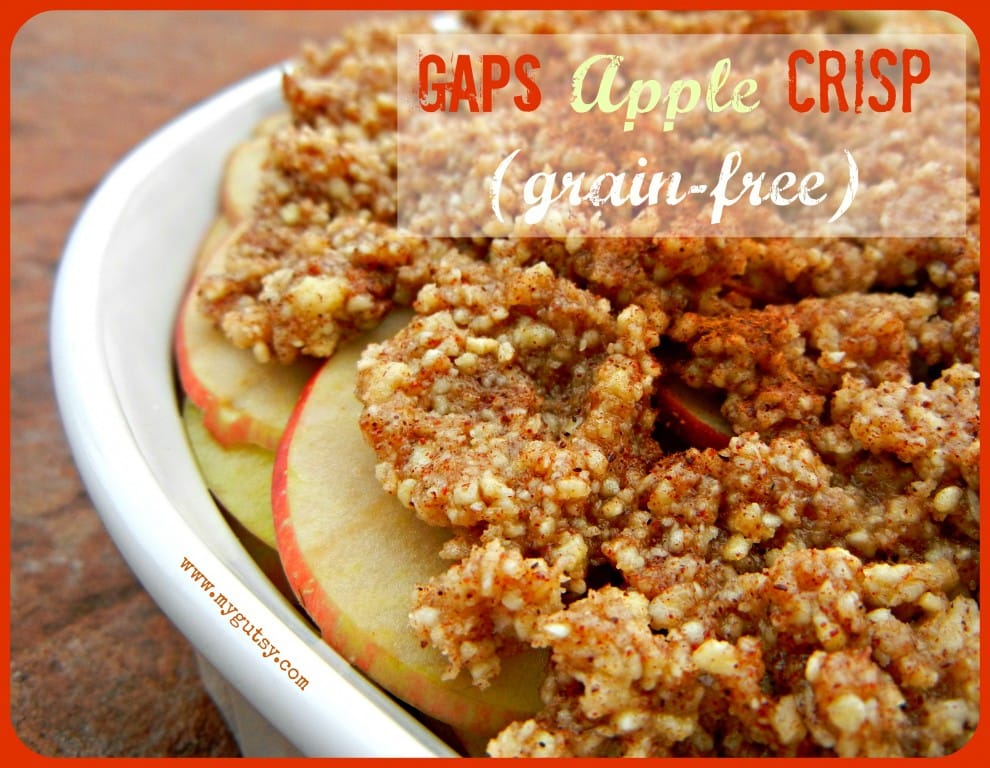 Ingredients
8-10 small-medium apples
1 1/2 cups almond meal (fine topping) or ground blanched almonds (coarse topping)
1/4 tsp sea salt
2 TBSP maple syrup or honey
5 TBSP butter (cold)- cut into chunks
1 TBSP cinnamon
3 TBSP lemon juice
Directions
Preheat oven to 300 degrees
Wash and slice the apples very thin. (I used a mandolin and didn't bother to core the apples, I just let the seeds fall out and picked them out afterward–thats because I wanted the apples round. Next time I am just going to core the apple and then slice to make it easier on myself!)
Tightly layer the apples in a baking dish and drizzle lemon juice over them once they are all in.
(if using blanched almonds) Use a Cuisinart to pulse almonds until it looks like the consistency you want.
Pulse together ground almonds or almond flour, salt, cinnamon, maple syrup, and cold butter (you can always mix it by hand too, but then you will have to cut the butter really small).
Evenly spread the crumble topping from step 5. onto the layered apples.
Bake for 80-90 minutes. I deliberately kept the oven at a low temperature to allow the apples to get soft while the crumble doesn't get too dark. If your oven gets extra hot, make sure to check the crisp after an hour.
Yum!