Apple Turkey Curry on Cauliflower Rice
Apple Turkey Curry
1. Melt the butter over medium heat in a large pot. Add apples, shallots, garlic and curry paste and saute until fragrant and softened (about 3 mins).
2. Add red pepper and chicken stock and bring pot to a boil.
3. Add turkey and coconut milk and return to boil. Reduce heat and simmer for 5 minutes.
4. Serve on top of a bowl of Cauliflower Rice and enjoy.
Cauliflower Rice
1. Clean the cauliflower and cut into florets. Put through the food processor until the cauliflower has a couscous-like or rice-like consistency.
2. In a pan on medium heat, add a tablespoon of water, then the cauliflower rice. Cook covered for 5 min to steam through a bit.
3. Add the butter, and allow to melt. Mix consistently to prevent the rice from sticking to the bottom of the pan, and cook uncovered for 15-20 minutes or until softened.
4. Serve in a pretty bowl, and top with the Apple Turkey Curry.
[ingredients]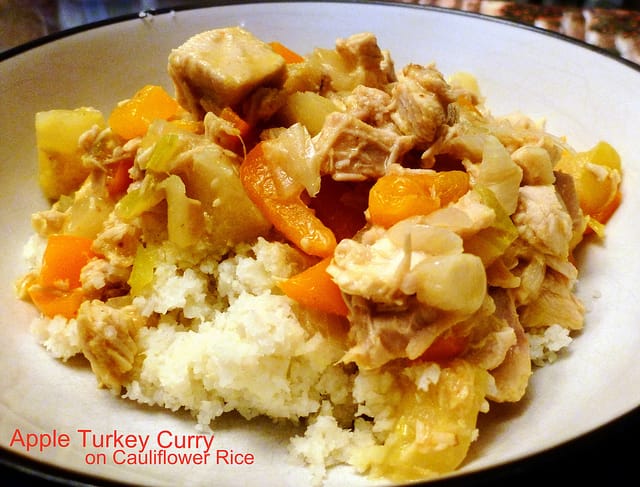 Ingredients
2 cups cooked turkey, chopped
2 tbs organic butter
1 large organic apple, diced
2 cloves of garlic, 2 shallots, both minced
1 tbs Thai yellow curry paste (or powder)
1 organic red pepper, diced
1 cup chicken stock (or turkey stock)
1 cup coconut milk
CAULIFLOWER RICE = 1 large cauliflower (or 2 small), 1.5 tbs butter, 1 tbs water, salt to taste.