Asparagus and Bacon Quiche with Spaghetti Squash Crust
Roasted spaghetti squash makes the perfect crust for this gluten-free quiche!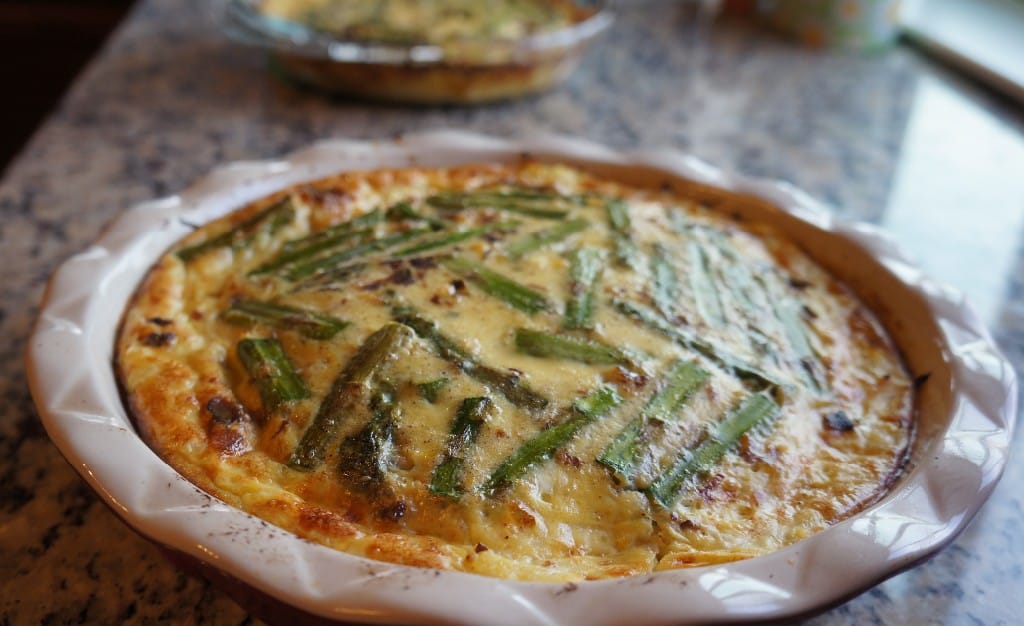 Ingredients
1 spaghetti squash (roasted (see instructions below))
1 bunch asparagus (ends trimmed and stalks cut in half)
2 garlic cloves (minced)
5 pieces of bacon (cooked and crumbled)
1.5 cups unsweetened almond milk
10 eggs
Salt and pepper
Directions
Roast the spaghetti squash ahead of time by preheating your oven to 375 degrees F. Place whole squash in a baking dish and cook about 45 minutes to an hour until softened. When cool enough to handle, cut squash in half, scrape out the seeds and shred the strands.
Place the now shredded squash into two pie pans and spread into a crust. Bake at 400 degrees F for 10 minutes.
While the crust is baking, heat a medium pan over medium-high heat. Add olive oil, asparagus and garlic. Season with salt and pepper and cook about 5-10 minutes until softened.
Combine the eggs, milk, cooked bacon and salt/pepper in a large bowl and mix well. When the crust is done, pour the egg mixture on top of both pans. Divide the asparagus evenly over both pans, making sure it sinks into the egg mixture.
Place back into the oven and cook about 30-40 minutes until the center is cooked through. Let cool, slice like a pie and enjoy!