Autoimmune Paleo Carob Covered Apples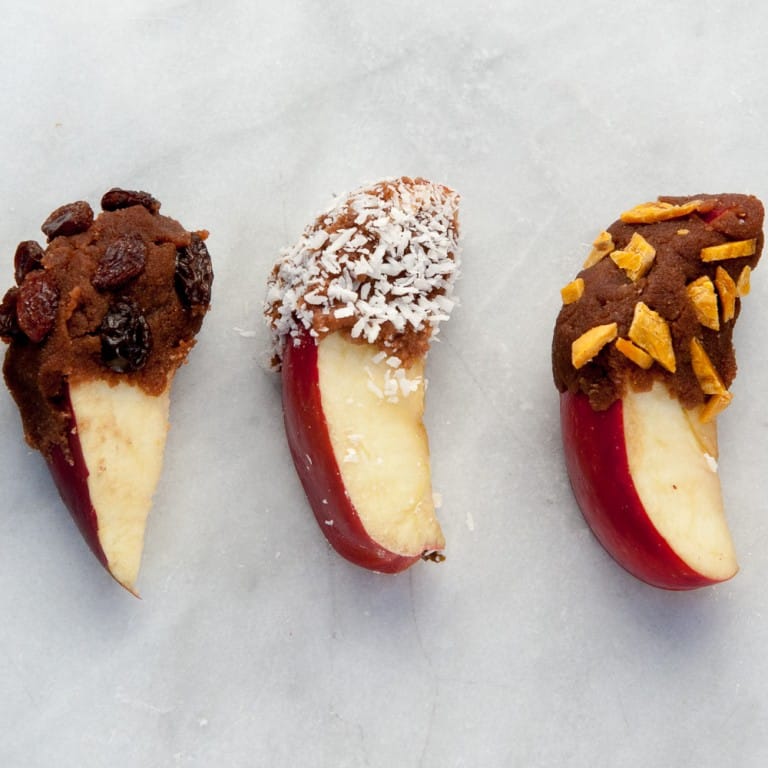 Ingredients
1 apple, cored and cut into approx 8 slices
2 cups water
1 tbs lemon juice
2 cups unsweetened coconut flakes
2 tbs coconut oil, melted
pinch of sea salt
2 tbs carob powder (or cocoa powder if you can do it)
1 tbs maple syrup
Toppings like shredded coconut, sea salt, raisins, chopped dried fruit
Directions
Place the cut apples in a solution of 1 tbs lemon juice and 2 cups water to prevent browning.
Put your desired toppings into separate bowls and set aside.
Put the coconut flakes, coconut oil, and salt into a food processor or blender and process until smooth. (At this point you have coconut butter. Yes, you could use coconut butter instead of this step, but I find this much easier and cheaper than trying to melt vast quantities of coconut butter.)
Mix in the carob powder and maple syrup.
Remove the apples from the lemon solution and then dip the ends of the apples into the mixture to cover. You will most likely have to pat the mixture down on the apples for it to stay. Now dip the apples in the topping of your choice and turn to cover. Place the finished apples on a cookie sheet covered in parchment paper.
These should be refrigerated after coating to harden up a bit and to store until serving.