Autumn Breakfast Casserole
Preheat oven to 375. Place acorn squash on a cookie sheet and stab (with a knife) all over the squash , puncturing just as you would for baking a potato. Bake for about 45mins. or until it is soft all the way through. Remove from oven and let cool.
Meanwhile, dice pepper and onion and heat skillet, place veggies along with the sausage and sage in the skillet and just before sausage is browned and the veggies have softened, mix spinach in and as it wilts, throw in nutmeg and the 1/8 tsp of cinnamon. Once meat, onion, pepper and spinach is cooked let cool.
The squash should be cooled now, so cut it in half and scoop out the seeds, then spoon out the insides and place in a large mixing bowl. Next, add coconut oil, flax seed, coconut milk and remaining cinnamon and using your hand or an immersion mixer, mix everything together until you have a creamy, almost whipped, texture. Then spoon the mixture in a casserole dish, spreading evenly, then pile on the meat and veggies, last but not least top with the BACON and drizzle with maple syrup. Bake for about 35 mins or until bacon has reached the desired done-ness (you like that word?).
[ingredients]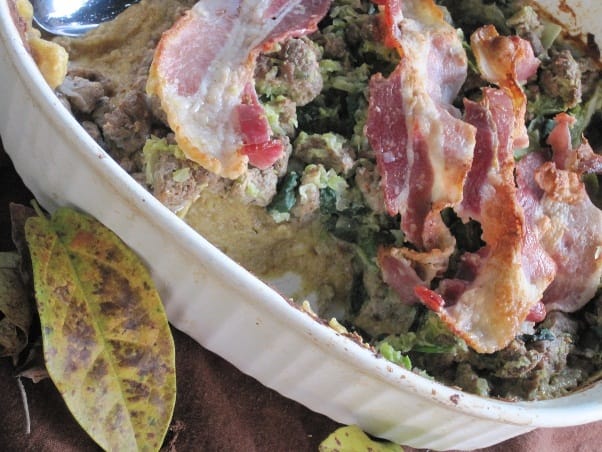 Ingredients
1 Acron squash
3T. coconut oil
2T. flax seed meal
1 1/2 c. coconut milk
1-2T. cinnamon
1 1/2lb. turkey sausage
1/2T. sage
1green bell pepper
1yellow onion
2 C. spinach, pinch nutmeg, 6 slices bacon, maple syrup