Bacon and Broccoli Frittata
DIRECTIONS: Pre heat your oven to 350. Cook your bacon in the cast iron skillet, drain all the fat except 1 Tbsp. Add your leeks, broccoli and peppers, cook for 3 minutes. In a small dish crack your eggs, and whisk until all the yolks are broke. Poor your eggs in the skillet with the the vegetables, crumble the bacon on top. Cook for 2 minutes on medium heat, then transfer to the oven. Bake for 15 minutes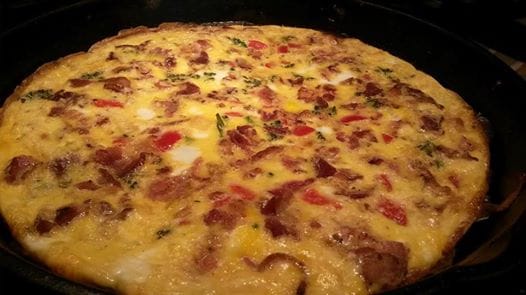 Ingredients
1 Dozen Eggs
6 Slabs of Bacon
1 Red Pepper, diced
1/2 cup of Broccoli, cut into bite size pieces
1/2 cup of Leeks, cleaned and diced
Directions
Pre-heat your oven to 350.
Cook your bacon in the cast iron skillet, drain all the fat except 1 Tbsp.
Add your leeks, broccoli and peppers, cook for 3 minutes.
In a small dish crack your eggs, and whisk until all the yolks are broken.
Poor your eggs in the skillet with the the vegetables, crumble the bacon on top.
Cook for 2 minutes on medium heat, then transfer to the oven.
Bake for 15 minutes.