Bacon and Vegetable Frittata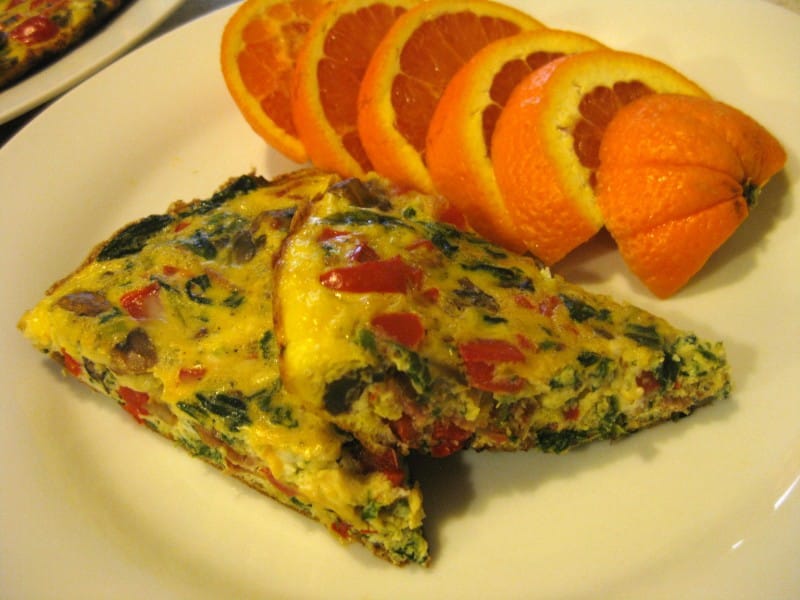 Ingredients
3 slices nitrite-free bacon
1 red bell pepper, diced
1 cup diced mushrooms
3 scallions, sliced
2 1/2 oz frozen spinach, thawed and squeezed to remove excess liquid, then chopped
6 eggs
Salt and pepper, to taste
Directions
Preheat the oven to 400 degrees F.
In a medium oven-proof skillet, brown the bacon slices to your liking. Remove them to the side to cool before crumbling.
Drain away all the bacon grease from the pan except whatever is coating the bottom, then add the peppers, mushrooms, scallions, and spinach and saute until tender. Return the bacon to the pan.
Beat the eggs in a small bowl with some salt, if you would like some, and a plenty of pepper. Pour the eggs over the bacon and vegetables and briefly stir to combine. Smooth the eggs in an even layer and cook until the edges set.
Place the frittata in the oven and cook until the top is no longer wobbly, about 5-8 min (depends on how long you let the eggs cook on the stove.)
Remove the skillet from the oven and use a spatula to loosen the eggs and slide the frittata onto a plate. Allow it to rest a couple of minutes, then cut into wedges and serve.