Bacon and Vegetable Quiche
Shred sweet potato, zucchini and carrots. Chop spinach, bacon and onion and add to vegetable mixture. Combine.
Add eggs into combined vegetable and bacon mixture. Mix thoroughly.
Add salt and pepper – mix.
Rub oil over tray to avoid quiche sticking to the tray. Pour mixture onto the tray. I used a medium tray so that once the quiche was cut into my desired size it was not too thin or too thick. Size of quiche depends on your own preference and portion intake.
Bake at 180 degrees for 45 minutes. The quiche may seem wet at the end of baking but once a knife/toothpick is inserted and comes out clean the quiche is cooked.
Set and allow quiche to cool before cutting.
Vegetable selection is based on what I had in the fridge, but it is entirely up to you! Tastes great with the bacon, or smoked salmon for those who don\'t eat bacon – for vegetarians, the quiche on its own also tastes great! 🙂
[ingredients]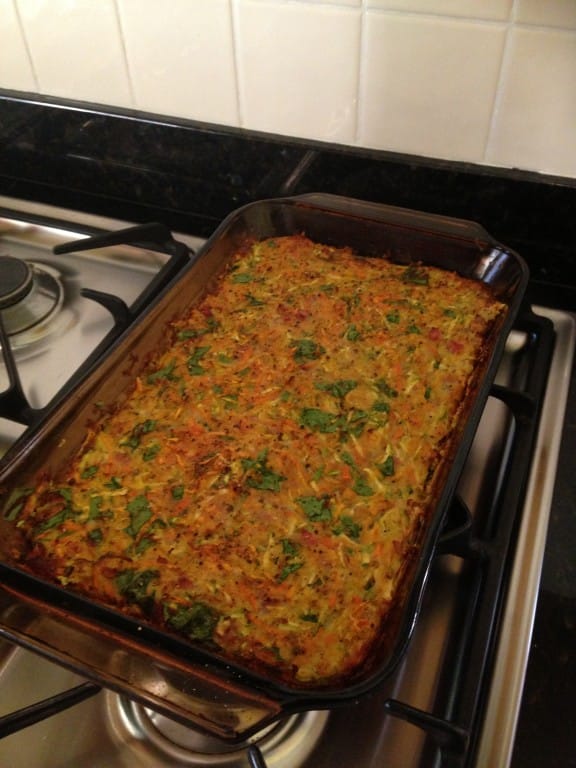 Ingredients
12 eggs
1 cup of bacon
1 sweet potato
2 carrots
2 handfuls of baby spinach
2 zucchinis
1/2 white onion
Smidge of coconut oil
Salt and pepper