Bacon Banana Almond Butter Donuts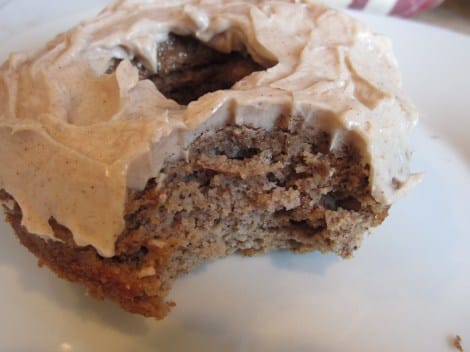 Ingredients
1/2 c Coconut Flour
1/2 t Baking Soda
1 t Cinnamon
1/2 c Almond Butter
1 Mashed Banana
5 Eggs
2 T Honey
1 T Vanilla
2-3 Thick Slices Bacon, cooked and chopped
Frosting of Choice (Just use Almond Butter!)
Directions
Combine the coconut flour, baking soda, and cinnamon.
With an electric mixer, cream the almond butter, banana, vanilla, and honey. Add the eggs one by one until well blended. Bit by bit, add the dry ingredients and beat until fluffy. Fold in the bacon bits.
Spoon batter into a greased donut pan (bonus if you use bacon grease!!). Bake at 325 degrees for 15-20 minutes or until a toothpick inserted comes out clean.
Frost as desired!