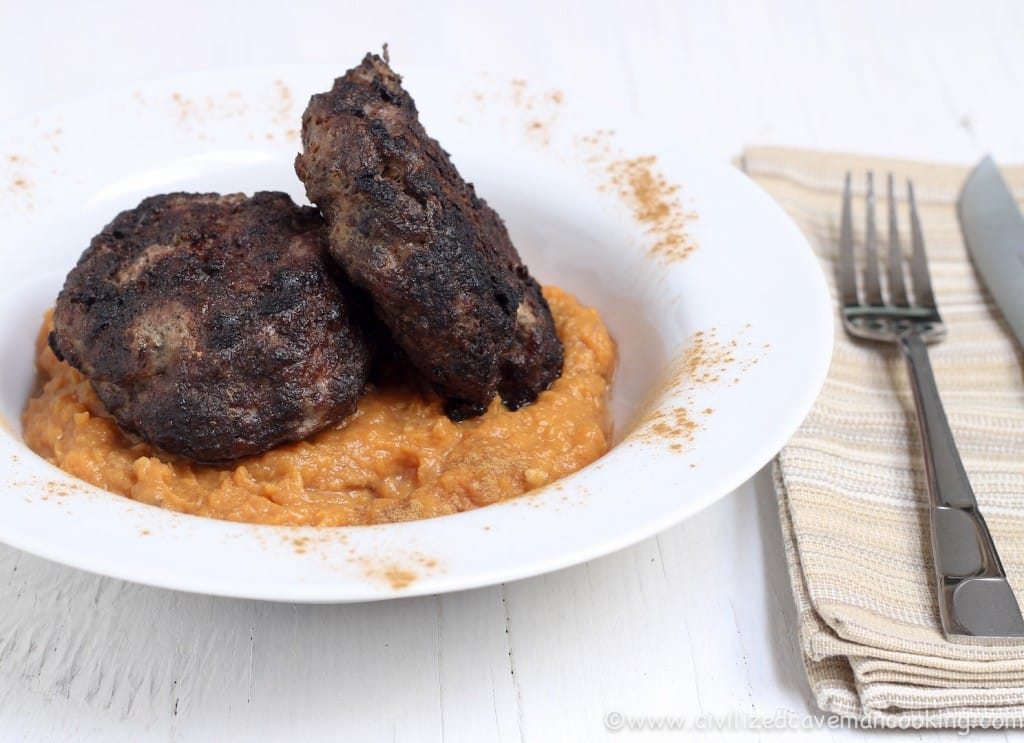 Ingredients
Burgers: 1 Lb Grass fed ground beef, 1 Lb Uncooked bacon
1 Egg
2 Tsp Black Pepper, 1 Tsp Garlic Pepper
Sweet Potato Mash: 4 Sweet Potatoes peeled and cubed
1 Cup Toasted Pecans crushed
1/4 Cup Coconut Milk, 2 Tbsp GrassFed Butter
2 Tbsp Cinnamon
Dash of Cloves
Directions
Process (Burgers): If you do not have a meat grinder, hand slice your bacon into the smallest lardons that you can to help incorporate it into the meat.
If you have a meat grinder, have your bacon thawed out but chilled in the freezer for 20-30 mins prior to grinding to help it grind easier.
Put you ground beef in a mixing bowl and grind your bacon into the bowl or hand mix it in if you had to slice it.
Using your hands mix the beef and bacon together until everything is evenly incorporated.
Now add all of your remaining burger ingredients and mix well with your hands and them form into four 1/2 lb patties. They will shrink so this is perfect size.
Once formed, let them sit at room temperature for 20-30 minutes which is a perfect time to knock out your sweet potatoes.
Once ready, preheat your grill and go to town. Cook the burgers to an internal temp of 165 degrees which at 400-450 should take 20-25 minutes.
***VERY IMPORTANT, YOU MUST COOK THESE BURGERS TO AN INTERNAL TEMPERATURE OF 165 DEGREES FAHRENHEIT BECAUSE OF THE BACON. Trust me if you eat your stuff rare or whatever it will not bother you with these, don't get sick***
***You need to stay close to your grill, with all the bacon fat dripping it can easily cause some large flareups and that will burn your burgers and have them raw in the middle. These will take 20-25 minutes to cook and you need to be close the whole time***
Process (Sweet Potatoes): Boil your sweet potatoes in a pot of water until fork tender.
Drain from water and add them to a mixing bowl or stand mixer.
Add your grassfed butter and bury it in the potatoes to let it start melting and then all the rest of your remaining ingredients.
Mix well with a hand mixer or hand mash them or go to town with your Stand mixer and let it do all the work.
Once everything is mixed, serve.