Bacon Beef Butternut Squash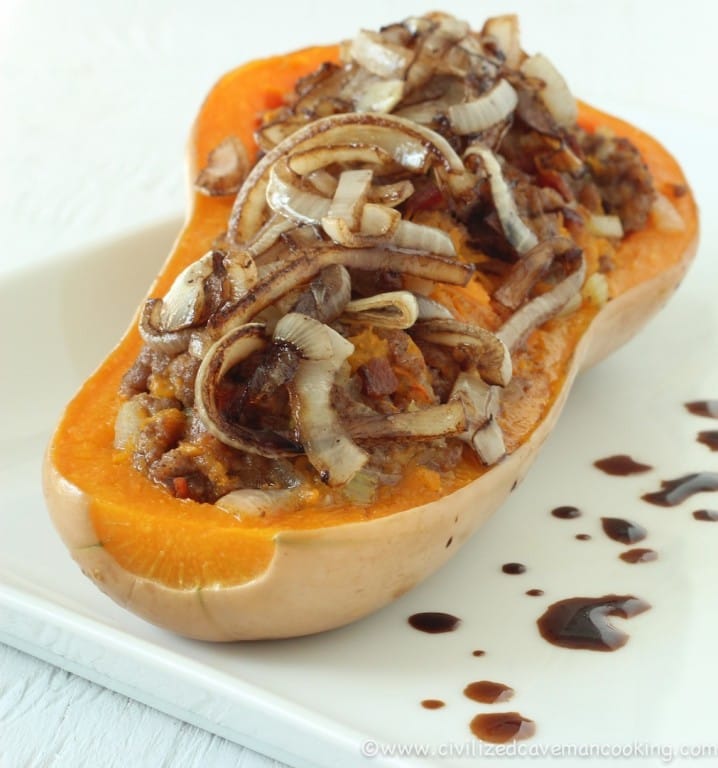 Ingredients
1 Butternut Squash ~ 2 Lbs
4 Slices of bacon
1 Lb Grass Fed ground beef
3 Small onions sliced, 1 Reserved
1 Stalk of celery diced
3 Tbsp Cinnamon
2 Tbsp Balsamic Vinegar
Salt and Pepper to taste
Directions
Preheat oven to 350 Degrees F.
Cut squash in half and scrape out the seeds.
Place face down in a pyrex dish with 1/2 of hot water and cook for 30 Minutes.
While its in the oven, cook the bacon in a pan until crispy, set aside and leave the bacon fat in the pan.
Add 2 of the sliced onions and celery to the pan and then add the beef.
Season with Salt and Pepper to taste and your cinnamon.
Continue stirring until the beef is finished, remove from heat and place in a bowl.
Remove the squash from the oven, when you can handle it scrape out some of the guts, leaving ~1/4 inch of squash, add squash to bowl with meat.
Crumble your bacon and add that to the bowl as well.
Mix well and then stuff your squashes with the beef mixture and place back in the 350 Degree oven for 20 minutes.
While your squash are baking, add your reserved onion to your sauté pan and cook them over low heat with your balsamic to caramelize them.
Remove squash from oven, top with caramelized onions and Enjoy.