Pre-heat oven to 400 degrees. Make bacon cups by covering the bottom of a muffin tin with aluminum foil. Wrap bacon strips around the bottom of each muffin cup. Bacon will shrink, so it\'s ok if the bacon is too big for now. Put inverted muffin tin onto another pan that will catch the bacon drippings. Bake for 20 minutes, or until crispy. Remove and let cool, then remove carefully from the muffin tin.
While the bacon cooks, mix the ground beef with your choice of spices (I used salt, pepper, garlic, onion, and marjoram). You can also add a tablespoon or two of a sauce, like mustard, or a paleo ketchup or bbq sauce. Whatever you like on your burgers.
Turn oven heat down to 375 degrees. Take another available muffin tin, or clean out the one you used to cook the bacon cups. You can grease the cups first with some of your bacon grease, or some olive oil. Fill the cups about 3/4 full with about 2oz of beef mixture. Bake for 7-10 minutes, depending on how well-done you want your burgers. When done, remove from the oven
Place a burger into each bacon cup, and replace in the muffin tin. Place a little cheese on top, and place under broiler for a minute or 2 to melt the cheese.
Remove from muffin tin, and enjoy!
[ingredients]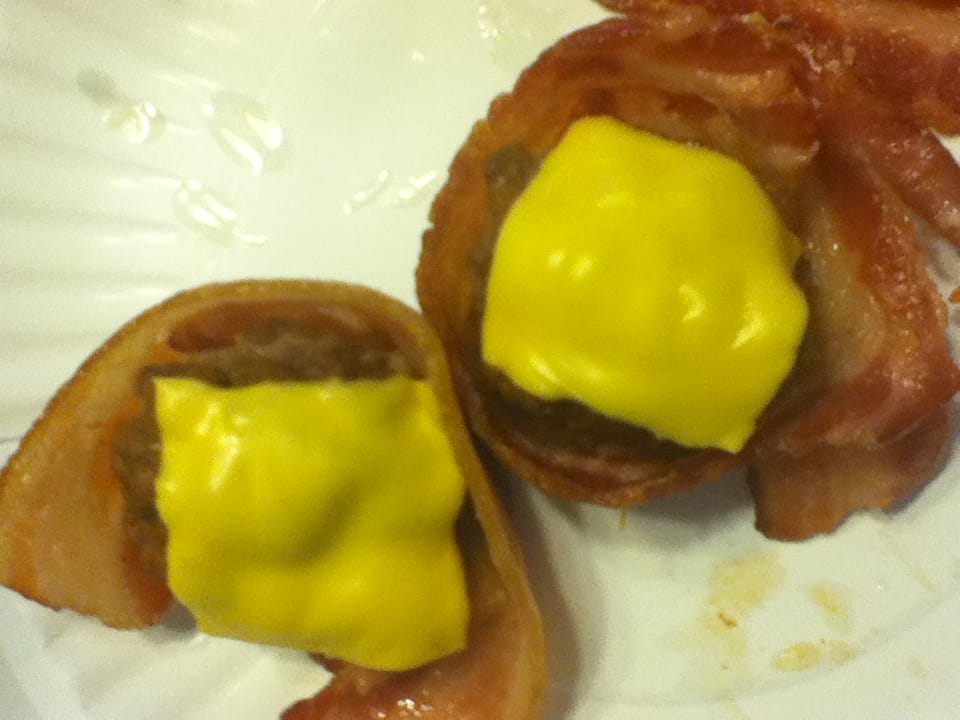 Ingredients
Uncured Bacon strips
Ground Beef (1/8 lb for each 'cup')
Choice of spices
Choice of cheese
Choice of burger toppings