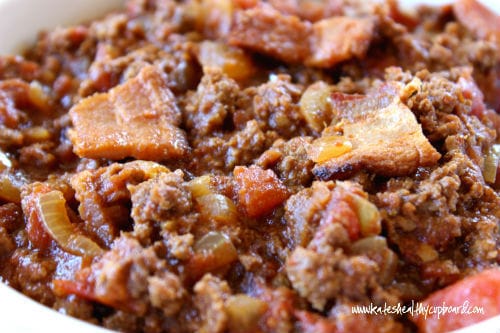 Ingredients
1 lb grass-fed ground beef
4 slices bacon
1 onion, chopped
1/2 red bell pepper, seeded and cut into 1/2 inch pieces (optional)
3 garlic cloves, minced
1/8 cup chili powder
1/2 tbsp ground cumin
1 tsp ground coriander
1/2 tsp red pepper flakes
1/2 tsp dried oregano
1/4 tsp cayenne pepper
1 (28oz) can diced tomatoes
1/2 tsp sea salt (or more if tomatoes don't have added salt)
Directions
Slice the bacon into 1/2 inch pieces and place in a large saucepan over medium heat.
Once the bacon is cooked though, pour off all but 2 tablespoons of the bacon grease and return pan to the heat with the bacon in it.
Add the onions, peppers, garlic and all of the spices except the salt and cook until the onions get tender and start to brown, about 10 minutes.
Increase the heat to medium high and add the beef, breaking it up into pieces with a spoon until no longer pink, about 3-4 minutes.
Add the tomatoes and salt and bring to a boil, then reduce heat to a simmer. Cover, stir occasionally and cook for about an hour.
Remove lid and let the chili cook for an additional hour to thicken up.
Add salt to taste.