This is the only quiche I make anymore. I make it every couple of weeks. We eat it for any meal. It's a bacon lover's dream!
Bacon Quiche
Ingredients:
10 eggs
~3 oz. canadian bacon
1/2 lb bacon (nitrate and hormone free, uncured), cooked and broken into pieces
a couple handfuls of spinach leaves
salt
pepper
garlic powder
onion powder
Directions:
Preheat your oven to 350 degrees.
Grease an 8 x 8 pan or 9 inch deep pie dish with coconut oil or bacon grease.
Whisk ten eggs.
Add a small amount of pepper, salt, onion powder, and garlic powder into the eggs. This picture shows how much a use. It's probably close to 1 tsp for each one.
Tear or cut up the spinach leaves.
Cut up the canadian bacon.
Put the bacon pieces, canadian bacon, and spinach leaves into the greased dish.
Pour the egg mixture over it.
Cook for 25-30 minutes or until the center is no longer jiggly. 

[ingredients]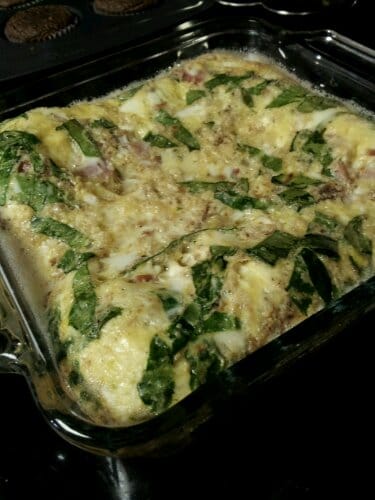 Ingredients
10 eggs
~3 oz. canadian bacon
1/2 lb bacon (nitrate and hormone free, uncured), cooked and broken into pieces
a couple handfuls of spinach leaves
salt
pepper
garlic powder
onion powder