For the crust:
Whisk together the butter and eggs. Stir into the coconut flour and salt. Keep mixing until it comes together as a wet dough.
Press into a well-greased 9in pie dish. It won't behave like ordinary dough, you'll have to do a fair amount of pressing with your hands but trust me, it comes out fine.
Prick the bottom and bake at 350 for 5-7 minutes til it browns slightly. Remove from oven and set aside.
For the filling:
Whisk together the eggs, milk, chives and garlic. Season well.
Scatter the meat evenly in the pie crust.
Pour over the egg mixture.
Bake at 375 for 25 minutes. Let cool slightly before slicing.
[ingredients]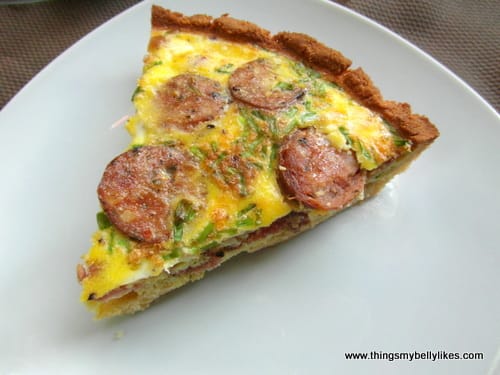 Ingredients
1/2 cup butter, melted
2 large eggs
3/4 cup coconut flour
1/2 tsp sea salt
5 large eggs
1/4 cup milk
1 tbsp chives, finely chopped
1 clove garlic, minced
4 slices cooked, streaky bacon, cut into pieces
2 cooked pork sausages, sliced