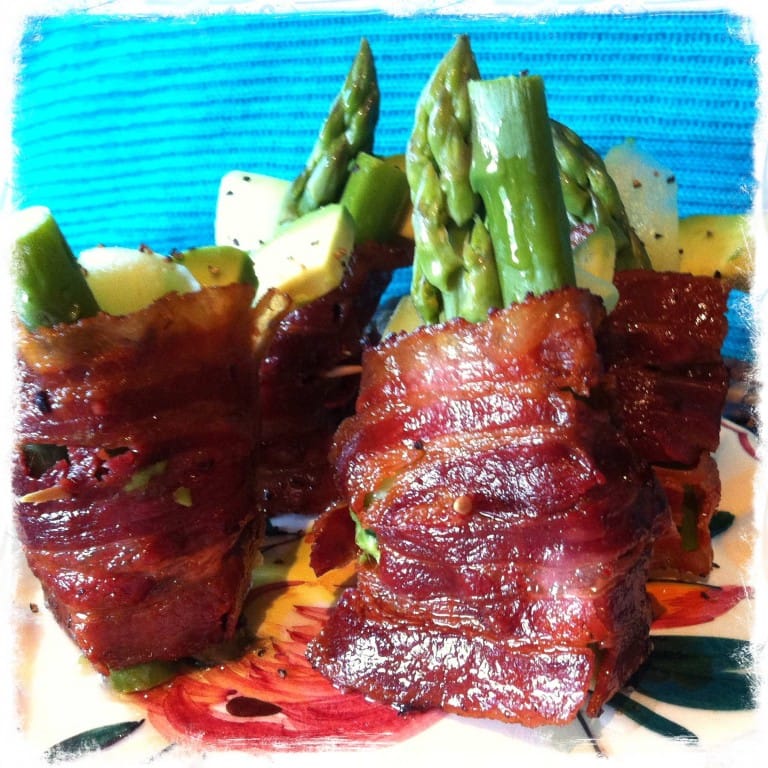 Ingredients
6 rashers bacon
6 large or 12 small asparagus spears
1 avocado
1 cucumber
Salt and pepper to taste
Directions
Fry bacon in a pan (not too quickly – you don't want it to burn because then it doesn't roll up well) until cooked, turning when necessary.
Break the asparagus spears and discard ends (these bits are way too tough and just unpleasant to eat).
Place spears into a pan of boiling water and boil for 5 mins, or until tender. Halve and slice avocado into long thinnish strips. Peel cucumber, and using peeler, peel the rest, longways, so you have long skinny pieces.
To assemble: Lay a piece of bacon down onto board. Cut one large asparagus spear in half or use two small ones – place them perpendicular to piece of bacon, place 2 long pieces avo and a couple of bits of cucumber in there two. Roll up and pop a toothpick in to hold them together. Place on plate, and sprinkle with some coarse black pepper and himalayan crystal salt if desired. Enjoy!!