Bacon-Wrapped Portabella Bun Burgers (w/caramelized onions)
1.) In large bowl, combine ground beef and all listed ingredients (for patties). Let sit while preparing burger.
Preparing the Portabella Mushrooms:
1.) Pre-heat oven to 400° on broil setting.
2.) Cut off any extra stem coming from bottom of mushroom that would interfere with the size of your grass-fed beef patty. It's usually no longer than ½ inch and I always cut it even with the mushroom.
3.) Prepare a baking/cooking tray with coconut oil. Place bottom side up on cooking tray. Sprinkle balsamic vinegar, salt, and pepper.
4.) Broil for 10-12 minutes.
Preparing the caramelized onions (while portabellas are broiling):
1.) Heat a medium size skillet to medium heat and add 2 Tbsp. coconut oil/grass-fed butter (I used a combo).
2.) Chop onion into slivers. Toss onions into skillet. Stir and cook for one minute.
3.) Season with garlic powder, salt, balsamic vinegar, black pepper, and honey. Stir and cook on medium heat for about 10 minutes. Set on low heat after 10 minutes and simmer, while preparing rest of burger.
Preparing Burger for broiling:
1.) Divide ground beef into two burger patties.
2.) Place on one portabella mushroom.
3.) Add onions on top of ground beef. Top with other portabella.
4.) Lay out bacon strip on cutting board and place entire burger in the middle. Wrap around. Place other bacon strip over the top of the burger and wrap under the bottom. Repeat for other burger.
5.) Place on same broiling sheet as mushrooms.
6.) Broil for 6-8 minutes at 400°. They cook QUICK! I like mine rare, so I broiled for 6 minutes.
[ingredients]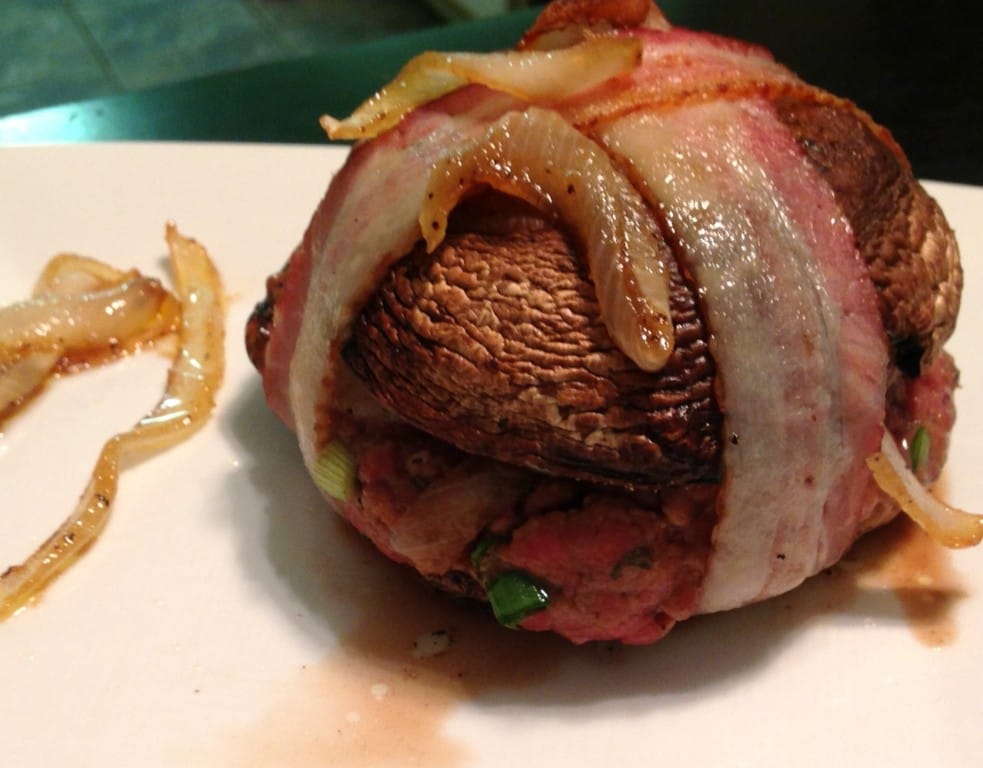 Ingredients
Grass-Fed Beef Patties: 2/3 lb. ground grass fed beef 1 tsp. onion powder 1 tsp. garlic powder
2 Tbsp. balsamic vinegar 2 Tbsp. green onions, finely diced 1 tsp. basil
1 Tbsp. sriracha sauce (optional) 1 Tbsp. organic ketchup (optional)
Portabella Mushrooms: 4 large portabella mushrooms 1 Tbsp. coconut oil 1 tsp. balsamic vinegar Salt and pepper to taste
Caramelized Onions: 1 large onion, sliced/slivered 2 Tbsp. coconut oil/grass-fed butter 1 tsp. garlic powder
1 tsp. salt 1 Tbsp. honey 1 Tbsp. balsamic vinegar 1 tsp. black pepper