Bacon Wrapped Sweet Potatoes
Peel the sweet potatoes and slice them widthwise at approximately a half inch smaller than the width of a piece of bacon. These are nice wide chunks of sweet potatoes, don't go to skimpy. Once they are sliced, put them in a pot of boiling water for approximately 12 minutes. This should be enough to soften them, but not right through. Stick a fork in them; if they are still a little hard in the center they are perfect! Once done, drain them and let them dry a bit. One at a time, wrap a piece of bacon all the way around the outside of the sweet potato piece and secure it with a toothpick. When they are all done, throw them on the BBQ (on low or med/low) for about 5 minutes a side or until the bacon is done. Be careful to watch them!! Bacon has lots of fat and fat causes fire flare ups, cooking them on low will help, but if you get lots of flames, move them so they don't burn. The cleaner your BBQ, the better.
When I make these, I will make more than I need as they heat up great the next day. I also love them for breakfast….mmm. Hope you enjoy!
[ingredients]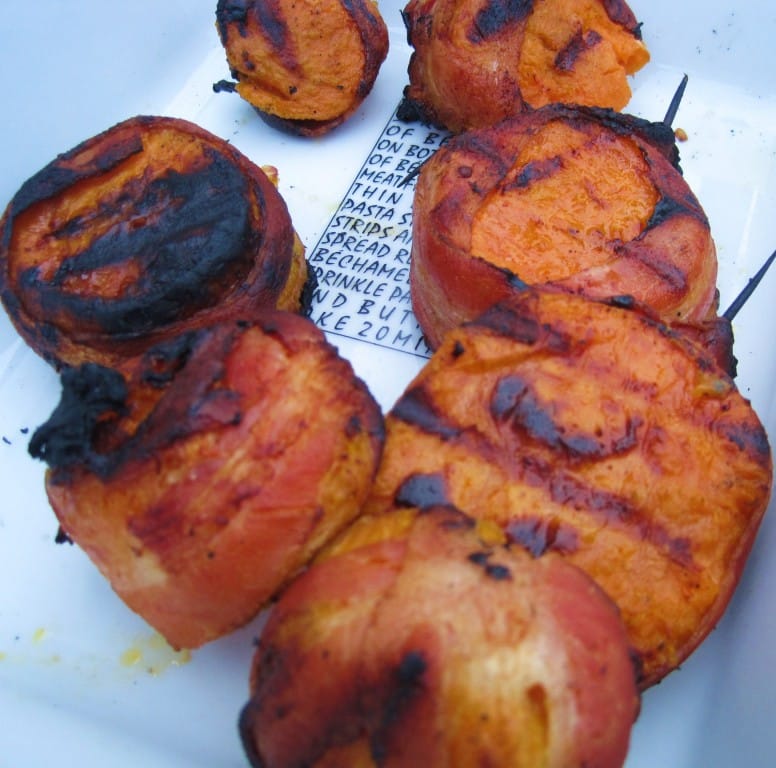 Ingredients
2-3 large, uniform width sweet potatoes
3-4 strips of bacon per potato
toothpicks!