Bacon-Wrapped Sweetbreads on a Stick
Fill a bowl or pot with water and add some salt. Soak the raw sweetbreads for 30 minutes.
Bring a separate pot (with fresh water and a bit of salt) to a rolling boil. Add the sweetbreads and boil for 10 minutes
Strain the sweetbreads and let cool. Remove the outer skin /membrane.
Spear strips of the sweetbreads with wooden skewers. Wrap each of them in bacon and arrange in a greased baking dish. Add salt and pepper to taste.
Bake at 350 degrees for 40 minutes.
[ingredients]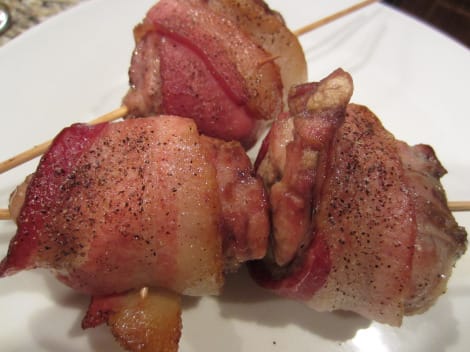 Ingredients
2 lbs Beef Sweetbreads
6-8 Thick Slices Pastured Bacon
Salt and Pepper
Water for soaking and boiling