Bacon-Wrapped Turkey Breast
While not completely necessary, I recommend brining the turkey breast for 4 hours before cooking. Brining will add more flavor to the meat and will help keep the turkey from drying out.
Mix the kosher salt, sugar, and water in a resealable plastic bag. Shake vigorously until the salt and sugar have completely dissolved. Place the turkey in the bag, squeeze out the air, and seal. Allow to brine, refrigerated, for at least 1 hour and up to 4 hours. Take out of the refrigerator about 30 minutes before cooking to return to room temperature.
Place 4 strips of bacon on a flat surface (such as a cutting board), parallel to each other. Starting at one end, place one strip of bacon perpendicular to the others, and weave it through the 4 strips (i.e. over, under, over, under). With the next strip of bacon, weave it in using the opposite pattern from the first (i.e. under, over, under, over). (You probably already knew how to weave, didn't you?) Continue until you have a bacon blanket large enough to cover the top surface of the turkey breast. Try to keep the bacon pieces close together.
Season the brined turkey breast with pepper. Place the turkey breast on the bacon, flip it over so the bacon is on top, and tuck the loose strands of bacon underneath. Stick a few leaves of fresh sage underneath the bacon in spots, if desired.
Preheat the oven to 375F. Place the turkey on a rack in a shallow roasting pan. Roast until the internal temperature at the center of the breast reaches 165F. (Roast time for this turkey was approximately 2 hours, but may vary with different ovens and/or weight of turkey,) Remove from oven and allow to rest for 10 minutes before slicing.
[ingredients]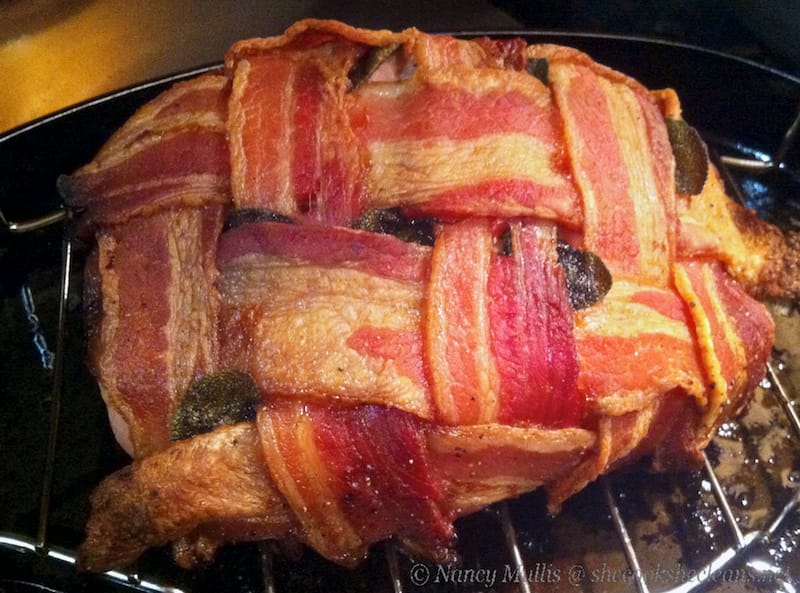 Ingredients
2-3 pound boneless turkey breast
8-9 slices of bacon
Freshly ground black pepper
Fresh sage leaves
1/4 cup kosher salt
1/4 cup coconut palm sugar, honey, or organic cane sugar
5 cups water