Basic, orthodox Paleo preparation is as follows:
Heat oven to 350F.
Cut acorn squashes lengthwise. Use a spoon to scoop out all seeds. Place squash halves, cut side up, in a glass or ceramic casserole dish. Sprinkle the interior of the squash with a dusting of cinnamon.
Chop bacon. Put chopped bacon in a small saute pan and heat over medium heat. The goal is to render out the fat, rather than crisping the bacon. While that cooks, peel, de-core, and chop the apple and chop the walnuts. After the bacon fat has mostly rendered out and bacon is partially cooked but still limp, stir the chopped apple and walnuts into the bacon and bacon fat and stir together. If the apple pieces do not appear to be liberally coated with fat, add a little coconut oil.
Pour mixture into the squash hollows. Pour about 1/2 c of water into the bottom of the casserole dish. Loosely cover the dish with aluminum foil and bake in the oven for 45 minutes.
TASTY MODIFICATIONS:
– Pour about 1 tsp of maple syrup or honey into the squash hollow before filling with the apple mixture.
– Add about 2 tbsps of dried cranberries to the apple mixture.
– After the squashes have baked through, top with some crumbled blue cheese and return to under the broiler for 3-5 minutes or when cheese appears melted.
[ingredients]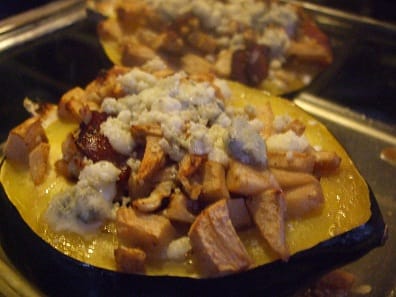 Ingredients
2 acorn squashes
1 apple (Gala, Fuji, or Golden Delicious)
1-2 oz. walnut halves
3 thick-cut slices of nitrate free bacon
Cinnamon
Coconut oil
Pure maple syrup or honey
Dried cranberries
Crumbled blue cheese