Baked Pumpkin Alfredo Casserole
Brown the garlic and shallots in the olive oil. Whisk in your pumpkin, coconut milk, sage, marjoram, thyme, salt, and pepper. Bring to simmer, then cover for 15 minutes over medium-low heat. Remove from heat and let cool.
Place the spaghetti squash in a large mixing bowl with the sauce and eggs. Mix well and pour into a greased 2 QT baking dish. Bake at 400 degrees for 35-45 minutes, until firm to touch and lightly browned.
Remove dish from the oven and arrange the bacon on top as the "crust."
Bake for an additional 10-15 minutes until bacon is browned and crispy. Enjoy!
[ingredients]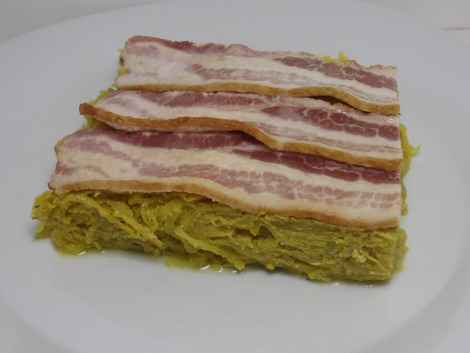 Ingredients
2 T Olive Oil, 2 Cloves Garlic, minced
2 Shallots, sliced
1 can Organic Pumpkin Puree
1 can Full Fat Coconut Milk
2 t Dried Sage
1/2 t Marjoram, 1/2 t Thyme
1 Spaghetti Squash, baked and innards removed
Salt and Pepper to taste
6 Pastured Eggs
8-10 Thick Slices of Pastured Bacon