Baked Spaghetti and Meat Sauce
This sauce is so versatile. You can switch up the meat with Italian sausage, ground pork or ground turkey. You can add in other veggies like zucchini, and fresh basil would be delicious! Make your spaghetti squash a few days in advance for a quick weeknight meal. Be sure to freeze any extra sauce to use for another quick meal in the future.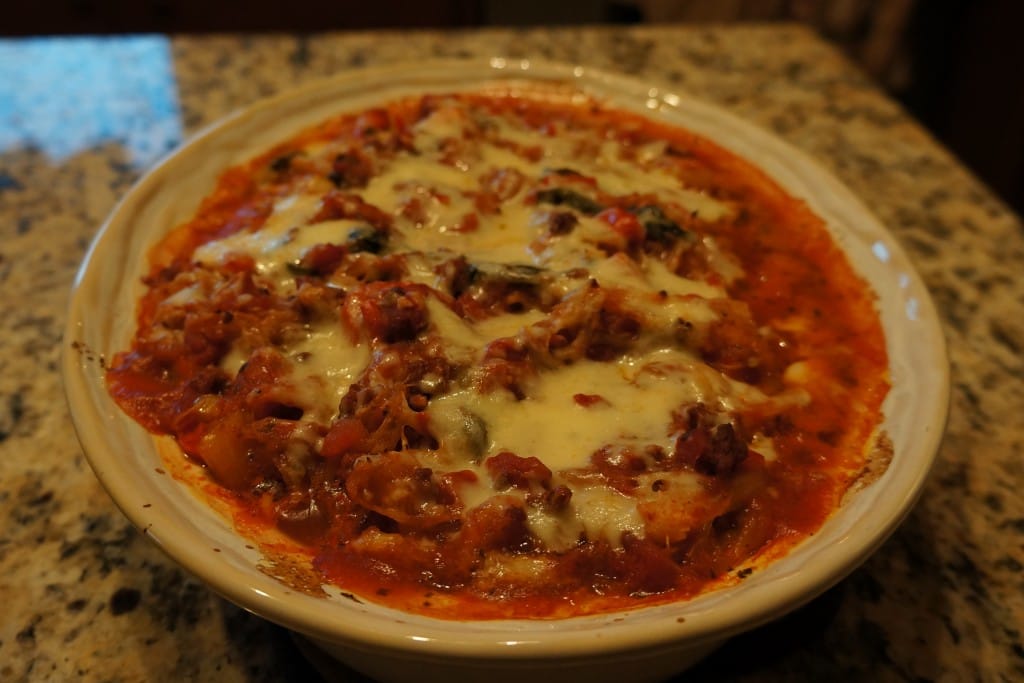 Ingredients
1 spaghetti squash
Olive oil
1lb ground beef
2 garlic cloves (minced and separated)
2 bell peppers (chopped)
2 28 ounce cans crushed tomatoes with basil
Dried basil, oregano and chives
1-2 cup spinach (chopped)
Salt and pepper
Shredded mozzarella cheese (optional)
Directions
Preheat the oven to 400 degrees F. Place squash in large baking dish and roast for about 45 minutes until completely cooked. Once it's cool enough to handle, cut squash in half, remove the seeds and shred the strands with a fork. This can be made up to a few days ahead of time.
Turn oven down to 375 degrees F. Heat medium skillet over medium heat. Add a drizzle of olive oil and the ground beef, one garlic clove, and spices to taste (basil, oregano, chives, salt and pepper). Cook, stirring until beef is cooked through, about 10 minutes.
Heat a large pot or Dutch oven over medium heat and add olive oil. Add in bell peppers and remaining garlic clove. Season with basil, oregano, chives, salt and pepper. Cook, stirring occasionally until peppers begin to soften, about 5-10 minutes.
Add in canned tomatoes, chopped spinach and cooked beef. Stir everything together and turn down heat to let simmer for about 15 minutes. Adjust seasonings to taste.
Combine your spaghetti squash and meat sauce in a large bowl and transfer to a glass or ceramic baking dish. You may not use all of you meat sauce depending on how much spaghetti squash you've made. Freeze the extra for a super quick meal next time!
Sprinkle cheese on top, if you are using, and transfer the dish to the oven. Cook for about 15 minutes or until the cheese melts and the dish starts getting crispy. Enjoy!