Banana Berry Pecan Muffins
Toasting your Raw Pecans
Preheat your oven to 180 C.
In a baking tray, pour your raw pecans on it.
Pour the melted grass-fed butter over your pecans and toss them evenly.
Sprinkle some sea salt and toss pecans again.
Bake for 5-10 minutes (keep watching pecans as they burn quite easily!)
Rest pecans while preparing your muffin batter.
Muffin Batter
Line a muffin baking pan with muffin liners.
In a bowl, mash banana well.
Add eggs, vanilla, coconut milk, cinnamon and nutmeg. Whisk well to combine
Once that is combined, add almond flour and combine.
Add coconut flour and combine.
Fold in mixed fresh berries
Fold in 3/4 of  toasted pecans
Spoon mixture into lined muffin baking pan.
Sprinkle with the remaining 1/4 of your toasted pecans.
Bake for 30 mins and enjoy the smell from the oven!
In Australia, Mainland has promised that their cows are grass-fed. Hence Mainland butter is grass-fed butter.
To me, the pecans were the heroes of this yummy warm muffin.
Bon Appétit!
[ingredients]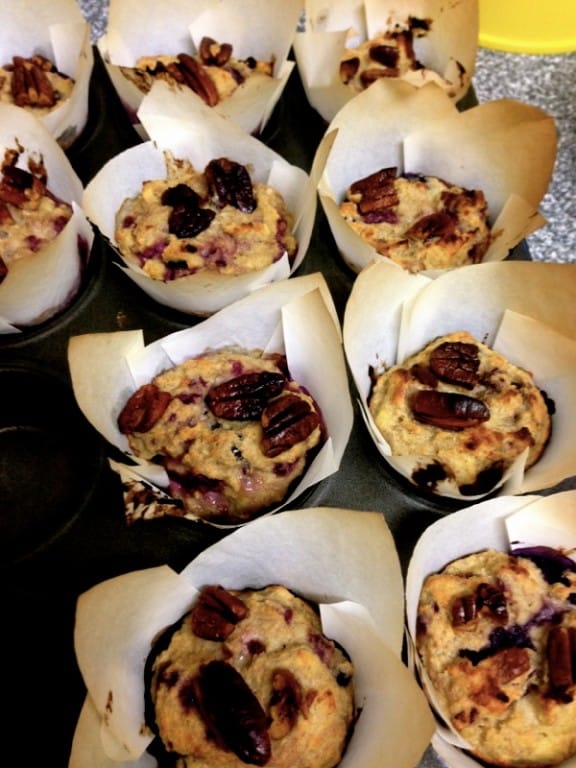 Ingredients
3 medium very ripe bananas
4 eggs
1 tbsp vanilla extract
3/4 cup light coconut milk
1/2 tsp cinnamon
1/2 tsp ground nutmeg, pinch of salt
1/2 cup almond flour
1/2 cup coconut flour
1 cup fresh blueberries, 1/2 cup fresh raspberries
1/4 cup raw pecans, 1 tbsp grass-fed butter (melted)