Sweet chocolate, nutty, caramelly goodness that takes me back to being a kid. It is inspired by the foil wrapped baked bananas we had on very special occasions! Perfect for snacks and desserts. I hope you enjoy it as much as we do. Click here to know more.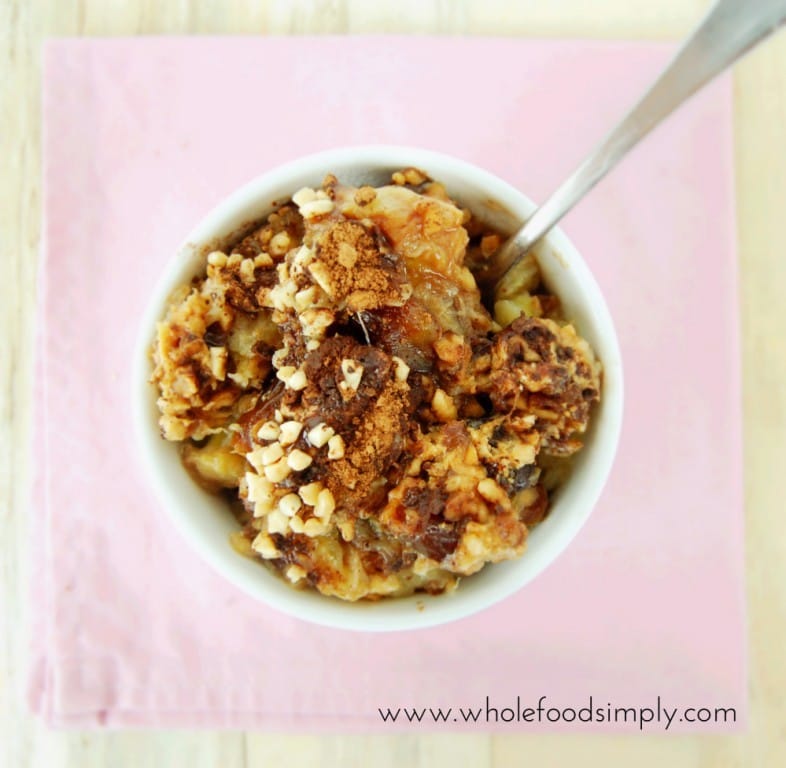 Ingredients
2 ripe bananas, peeled and sliced
4 medjool dates, seeds removed, roughly chopped
2 teaspoons cacao or cocoa powder or 20 grams roughly chopped dark chocolate
4 teaspoons nut butter*
4 teaspoons crushed nuts (peanuts and walnuts both work well)
Directions
Use a bowl or large mug.
Layer 1 sliced banana, scatter over 2 of the dates, dollop with two teaspoons of the nut butter, sprinkle with 1 teaspoon of the cacao or cocoa or half of the chocolate.
Repeat the layer.
Sit the bowl or mug onto a larger plate and microwave the mixture for 3 minutes.
Allow to cool slightly and tuck in.
*to make this nut free sub the nut butter with hulled tahini and the crushed nuts with sunflower seeds.