Banana Chia Seed Breakfast Cake
This soft and delicious breakfast cake is nut-free and 21DSD compliant! See more pictures of this recipe plus the nutrition information here: http://cookituppaleo.com/banana-chia-paleo-breakfast-cake-nut-free-21dsd-compliant/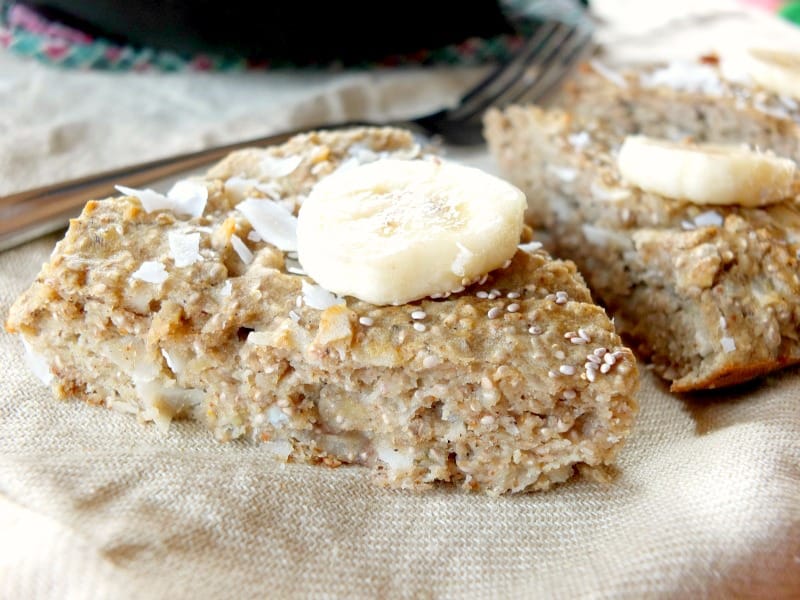 Ingredients
2 green tipped bananas
1/3 cup coconut oil, melted
1/4 cup chia seeds
3 eggs
1 tablespoon vanilla
1/2 cup large flake coconut flakes
1/4 cup coconut flour
1/4 cup collagen peptides
1/2 teaspoon nutmeg
1/2 teaspoon baking soda
1/3 cup coconut milk
1 tablespoon tahini
1/4 teaspoon vanilla
Directions
Preheat oven to 350 degrees Fahrenheit and grease a 6 inch cast iron pan with some coconut oil.
Mash the bananas in a bowl and stir in the eggs, oil, chia seeds, and vanilla.
Add the coconut flakes, coconut flour, collagen, nutmeg, and baking soda and mix well.
Scoop into the prepared pan and bake for 25 minutes, or until it passes the toothpick test.
If desired, stir together the coconut milk, tahini, and vanilla to make the icing.
Slice the cake and serve drizzled with the coconut-tahini icing if desired. Enjoy!