Banana Chocolate Chip Scramble
A quick and easy, warm and gooey banana bread pudding like scramble with chocolate chips… for breakfast.. or anytime of the day.. HELLO.
-Heat small skillet over medium heat, add coconut oil (I used about 1 TBS) Meanwhile..
-Mash banana with fork until creamy consistency
-Add egg and vanilla extract, whisk thoroughly.
-Add almond flour, whisk.
-Add chocolate chips and any other optional ingredients, fold into batter.
-Pour batter into heated skillet, let sit undisturbed for 2 mins or until lightly browned on the bottom.
-Scramble batter, and let sit for 30secs – 1min to brown bottom again. Repeat this step until coconut oil is absorbed and batter begins to look like a bread pudding texture. The key here is scramble, let brown, scramble, let brown. If you constantly scramble, you won\'t achieve a nice caramelized taste to the banana.
-Top with extra chocolate chips or other optional ingredients, if you\'re feeling indulgent.
-Enjoy!
[ingredients]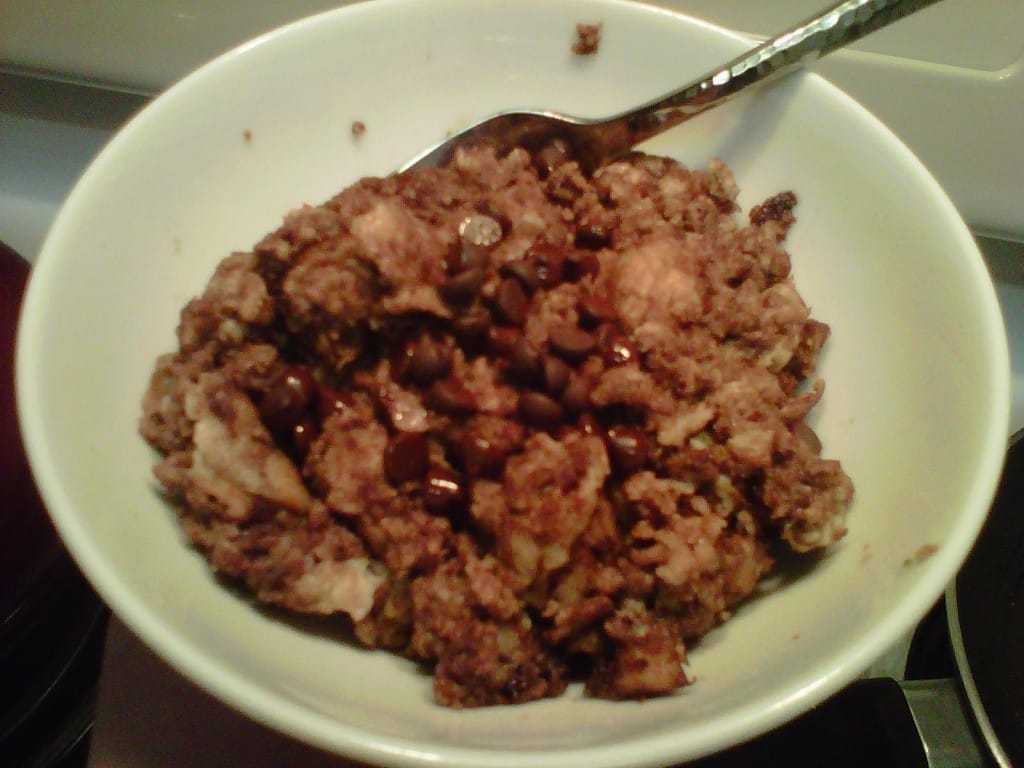 Ingredients
1 medium ripe banana
1 egg
2 TBS almond flour
splash vanilla extract
1-2 TBS allergy free dark chocolate chips (Enjoy Life brand)
coconut oil for skillet
optional ingredients like berries, nuts, etc.