The perfect banana nut muffin hot out of the oven!
[method]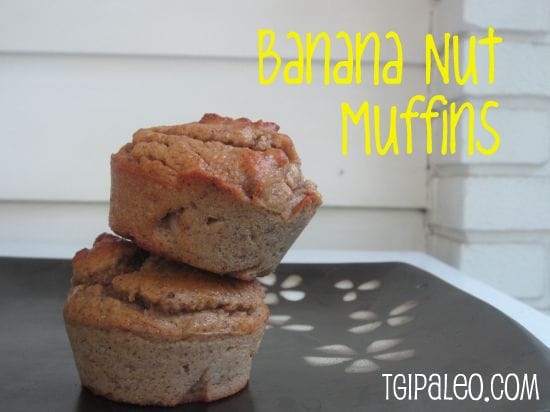 Ingredients
1/2 c Coconut Flour
1/2 t Salt
1/2 t Baking Soda
1/2 t Salt
1/2 t Gluten Free Baking Powder
5 Eggs
2 Egg Whites
½ c Mashed Banana (about 1 large…PLEASE measure this out, it makes a huge difference!)
1/2 c Almond Butter
1 t Vanilla
1/4 c Honey
1/2 c Chopped Walnuts
Directions
Whisk the dry ingredients together, except the walnuts.
Add the remaining wet ingredients and stir to combine.
Beat the batter with an electric mixer for 3 minutes on high, until fluffy.
Fold in the walnuts.
Spoon into prepared muffin tins about ¾ high.
Bake at 350 degrees for 30 minutes.