Beef and Eggplant Crock Pot Curry
This dish is warm, richly flavored and comfortingly spicy. A touch of lime juice and a healthy topping of cilantro brightens it up for summer, though it would make an excellent winter comfort stew. You'll be pumped to have this waiting for you in the fridge at lunchtime.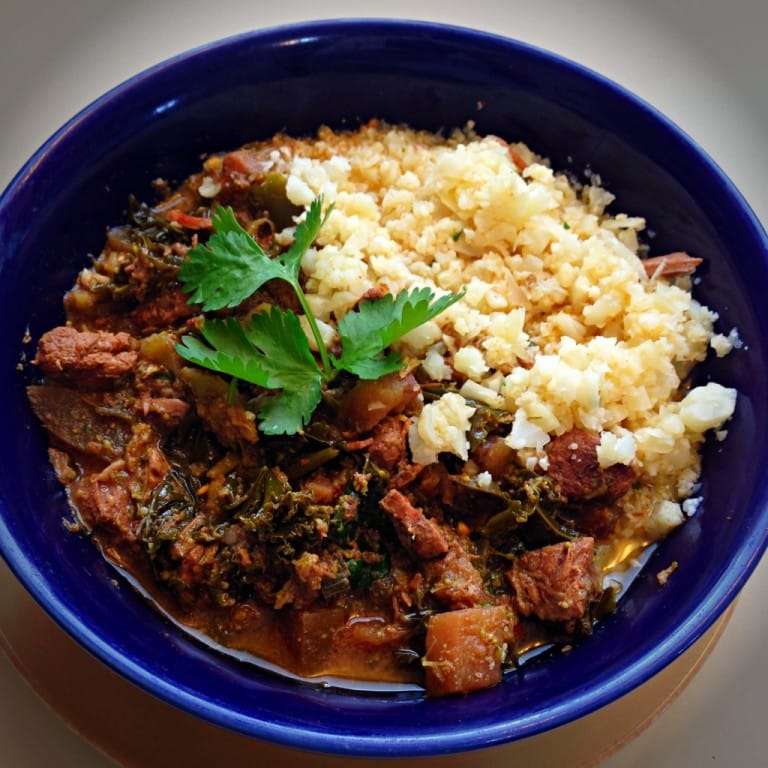 Ingredients
3 lbs. grass-fed beef stew meat
2 14-oz. cans coconut milk
4 cups beef or chicken broth
1 bunch green onions, chopped
1 medium head broccoli, rough chopped
1 green bell pepper, rough chopped
1 green bell pepper, rough chopped
1 bunch kale leaves, chopped
2 1/2 T fresh ginger, minced
2 T curry powder
2 T cumin
1 T red chili flake
1 T turmeric
1 T cayenne (adjust to your preference)
1 T cinnamon
1 T paleo-friendly fish sauce
Juice of 1 lime
Kosher salt to taste
Handful fresh cilantro, chopped (optional)
2 medium-sized eggplants. Cubed. Skin on. Just your standard, purple eggplant.
Directions
Start by prepping your veggies. Place chopped eggplant, green pepper, green onion and broccoli in a large bowl and set aside. Return chopped kale to refrigerator for later use.
If desired, trim excess fat and/or cut beef cubes into smaller pieces. Mix spices, fish sauce, broth and coconut milk in a small bowl.
Add beef, eggplant, green pepper, green onion, broccoli and liquid mixture to slow cooker. Mix to ensure liquid coats meat and veggies evenly.
Set slow cooker on low for 9 hrs. After 9 hrs has passed -- but before you turn off the slow cooker -- stir in kale and lime juice, and check to ensure beef is tender. If not, you can always continue cooking for another hour or so.
Once kale has wilted, turn off heat. Top with fresh cilantro and serve with steamed cauliflower rice. Pack for lunch throughout the week or serve to those you care about.