Berry Chocolate Almond Balls
Another take on my Apricot Almond Balls. These guys are packed with chocolaty berry deliciousness. They are portable and easy to prepare. I hope you enjoy!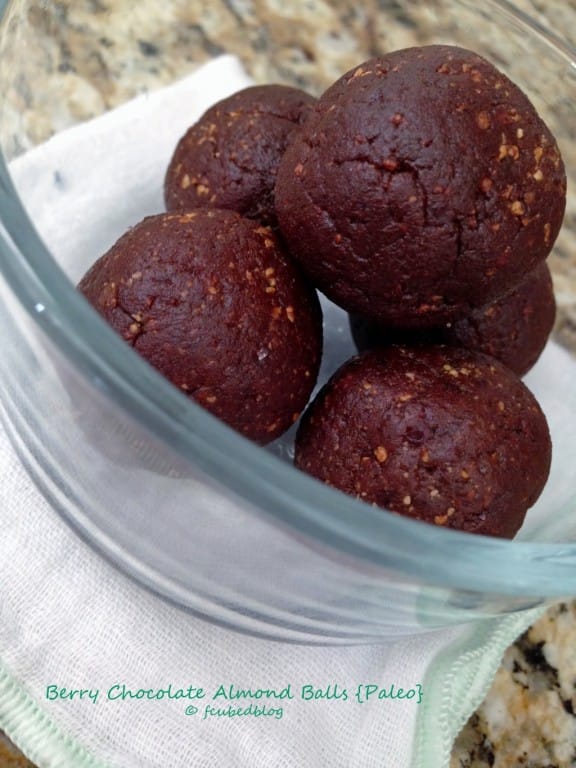 Ingredients
1/3 cup almonds, roasted
10 dried apricots, I used Turkish ones (unsulfured preferred)
10 dried dates
1/2 cup dried strawberries, cherries, or blueberries, or any combination
1/2 Tablespoon maple syrup
1 Tablespoon cocoa powder, unsweetened + additional cocoa powder
Directions
Roast those nuts! Place them in a single layer on a cookie sheet and roast for about five minutes in a oven pre-heated to 400 degrees F. Set aside to cool.
Add the dried fruits to your blender or food processor. Process until the fruit is finely minced.
Add the almonds. Pulse until the nuts and fruit start to come together.
Add the maple syrup and cocoa. Mix until combined.
Form balls. Just grab the mixture and roll it into balls. Then roll the balls into the extra cocoa, if you want! You want the cocoa to absorb into the ball, it should not be powdery. Eat and enjoy. Bam!
Store in an airtight container; three days at room temp, three weeks in the fridge.