Preheat oven to 350F. Grease a 9 inch glass pie plate or baking dish with butter or coconut butter.
Rinse the berries and drain, leaving the berries damp. Place berries in a medium-sized bowl and add chocolate chips, coconut flour, agave nectar, cinnamon, and lemon juice. Toss well to coat.
Pour the berry mixture into the plate, making sure the chocolate chips are more or less evenly distributed and not in a clump.
In a small food processor, pulse the nuts and coconut flakes together until coarsely and evenly chopped. (Or chop coarsely by hand.) Using your hands, quickly mix the butter into the nut mixture, until evenly coated.
Top the berry mixture with the nut mixture, leaving small gaps for the berries to bubble through while cooking.
Bake for 25 minutes, or until berries are bubbling and the crust is crisp and lightly browned.
Serve warm with heavy cream of your choice (coconut or dairy).
[ingredients]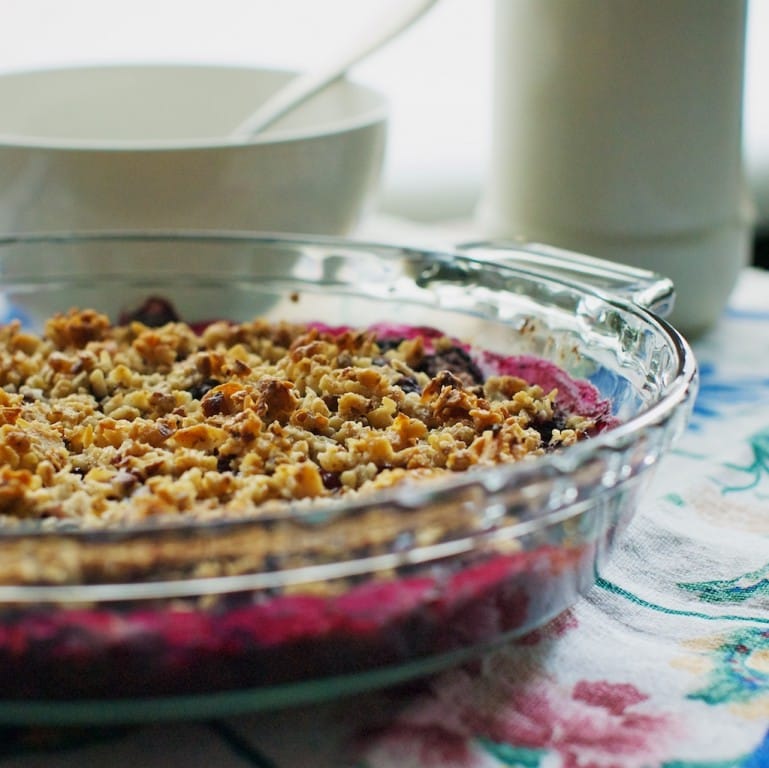 Ingredients
16 ounces of fresh berries (I used blackberries and blueberries)
1/3 cup dark chocolate chips
1 tablespoon coconut flour
1 tablespoon raw agave nectar or honey
1-2 dashes cinnamon
good squeeze of fresh lemon juice
3/4 cups nuts (I used macadamia, pecans, and walnuts)
1/3 heaping cup of unsweetened coconut flakes (the large flakes)
1 tablespoon cold butter or coconut butter
pinch of salt