Big Tim\'s 4 Bees Meatballs
The 4 Bees – Beef, Bison, Boar, Bacon!! 😀
Work all spices in with egg and meat, form into meatballs.
This made 28 meatballs about 1.7 oz each.
I used two 12 oz packages of bacon. 1st pack cut directly in half, wrap each meatball with 1/2 piece of bacon.
There were 12 pieces in the pack, so that worked for 24 meatballs,
I opened the 2nd pack, cut 2 pieces in half for the remaining 4 meatballs, and then well, the bacon\'s already open, might as well make a gate with the rest 😀 (This is optional) I laid one strip lengthwise down each row of 4 meatballs to use up remaining bacon
375 Degree oven for 30 minutes.
Enjoy!!
More pics on my facebook page to see what the gate of bacon looked like!!
http://facebook.com/bigtimsprimaljourney
[ingredients]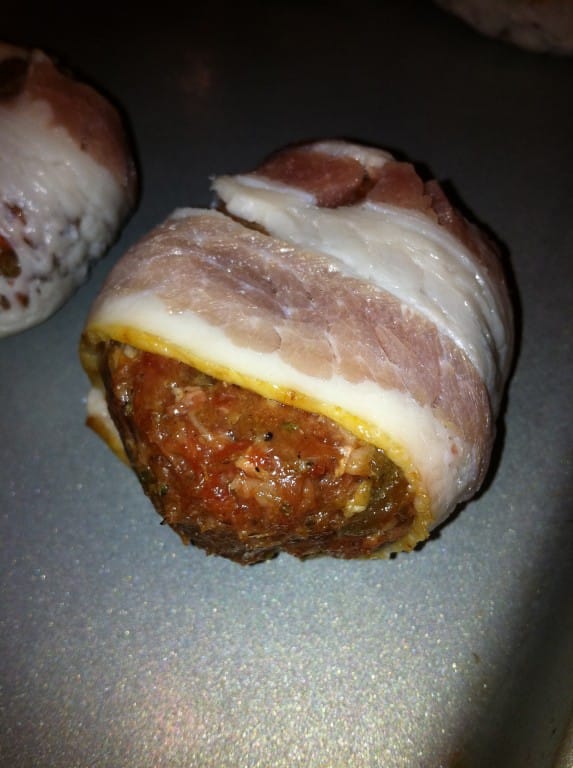 Ingredients
1lb each Grass Fed Ground Beef, Ground Bison, Ground Wild Boar
3 Whole Eggs
2 Tsp Sea Salt
3 Tsp Black Pepper
3 Tsp Granulated Garlic
2 Tsp Onion Powder
1 Tsp Cayenne Pepper (optional)
4 Tbsp Italian Seasoning (Oregano, Basil, Thyme, Marjoram, Rosemary)
24 oz Bacon