Big Tim\'s GROK Pot Pulled Pork
Update! I now also cook between 2-5 lbs of bacon and add it to the pork and chop it up all together. The added flavor the bacon gives makes it just over the top good. 2 lbs for a 3lb pork butt up to 5lbs for a 7lb butt.  Add more or less if you wish.
I have been making the Civilized Caveman\'s famous Pulled Pork for 5 months now, and thought it\'s time to make one of my own!! So here goes!
Take your pork shoulder out, make sure you get it to room temperature leave out for at least 30-60 minutes on the counter.
Prep your veggies…wash and dice up your onions, celery and carrots, throw them in the Grok Pot.
Prep your spices. Put all of them in a large bowl, and pour in the Apple Cider Vinegar and Water in the bowl and mix well.
Now, take the room temp meat, and get a cast iron or large skillet, and melt 8 oz of butter in the pan. Once the butter is melted…Sear the Pork on both sides 3 minutes each side till it gets a nice brown sear on it!!
Put the butter seared pork in the Grok Pot and pour the spiced liquid all over the pork!!! Cover and cook on low for 8 hours!! When done, take out pull apart (it literally will fall apart when you pick it up) and enjoy how you like. You can make lettuce wraps, salads or just eat it plain!!
I topped a big pile with my Simple Salsa and some GROKamole and a little cheese, and Nom Nom Good!!
Enjoy!!
http://fastpaleo.com/bigtims-simple-salsa/
http://fastpaleo.com/big-tims-simple-grokamole/
[ingredients]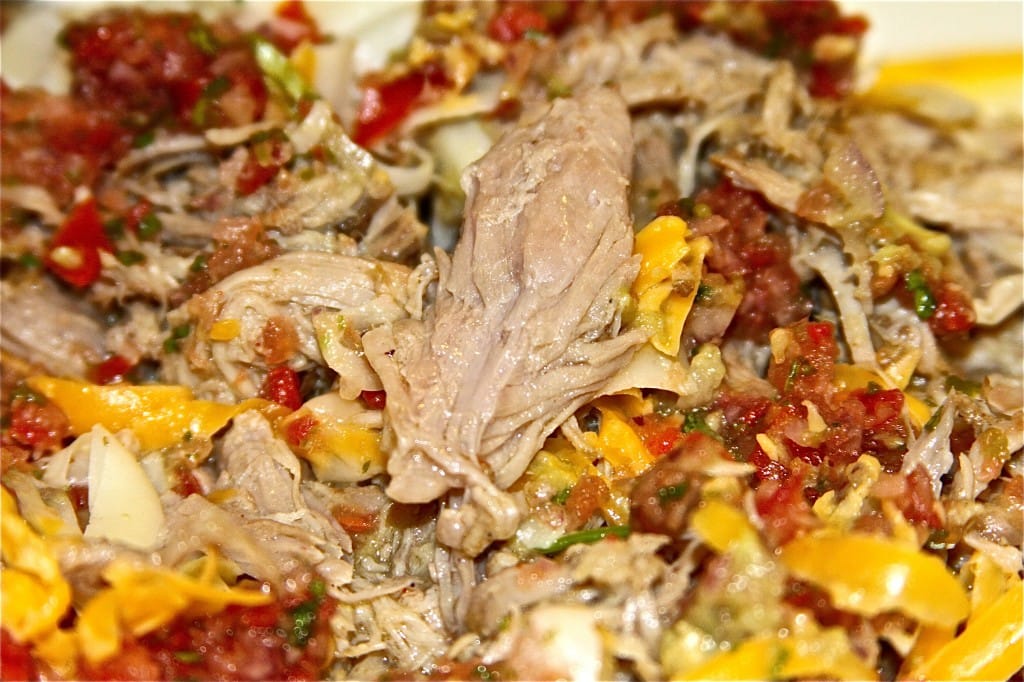 Ingredients
3-6 lb pork shoulder, Bacon: 2 lbs for a 3lb pork butt up to 5lbs for a 7lb butt
1 Red Onion, 1 Sweet Brown Onion
4 Celery Stalks, 4 Whole Carrots or 1 cup of Baby Carrots
2 Tbsp Kosher or Sea Salt
2 Tbsp Black Pepper
2 Tbsp Granulated Garlic
1 tsp Paprika, 1 tsp ground mustard
1 tsp Chili Powder, 1 tsp curry powder
1 tsp ground clove, 1 tsp tumeric
1/2 cup Apple Cider Vinegar, 1 Cup Water