Big Tim's Paleo Turkey Tacos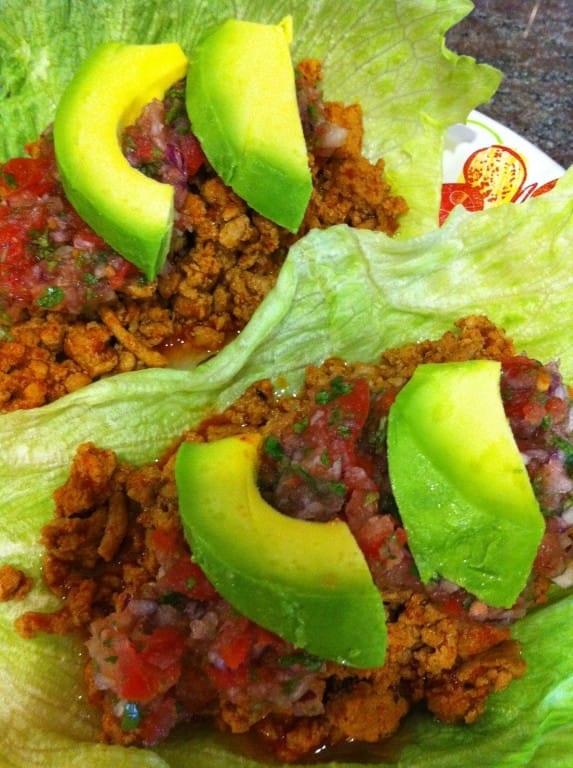 Ingredients
2.5 lbs Ground Turkey Meat 93/7 lean
3/4 cup of Organic Coconut Oil (not virgin)
2 Tbsp Chili Powder, 1.5 Tbsp Cumin
1.5 Tbsp Paprika, 1 Tbsp Onion Powder
2 Tbsp Granulated Garlic
2 Tsp Oregano, 1 Tsp Red Pepper Flakes
Iceberg Lettuce or Romaine Leaves
Salsa (Big Tim's Simple Salsa)
Sliced Avocado
Directions
In a large skillet, heat up the 3/4 cup coconut oil. Add ground Turkey meat, brown until not pink. Turkey is very lean so the extra fat is needed. Do not drain liquid!
Add spice mix in intervals, add spice, stir in with the meat, add more spice, stir, add spice till gone, stir in with meat. Add 1/2 cup of water and stir in to get it nice and juicy.
Bring to a boil, reduce heat, and let it reduce down stirring occasionally, after 15 min, take off heat, let sit for 5 or 6 minutes and let the meat soak in the fatty spicy juice.
Prep your Lettuce shells, If you prefer, just throw it in a bowl and eat it as a salad. Add meat to the lettuce shells, top with Big Tim\'s Simple Salsa, http://fastpaleo.com/bigtims-simple-salsa & some avocado slices :-)
This also works well with ground beef...Enjoy!!