Big Tim\'s Primal Bacon Cheeseburger Pizza
From our friend Tim at http://www.facebook.com/bigtimsprimaljourney!
Preheat Oven to 400 degrees
Meat Crust
1.5 lbs GF ground beef
1 Egg
1 TBSP Italian Seasoning (oregano, basil, thyme, marjoram)
1 TBSP Granulated Garlic
1 TBSP Kosher or Sea Salt
In a big bowl combine all above, get your hands in there and mix it all together like a giant meatball.
On a cookie sheet, lay out the meat real thin..keeping it together and not leaving any holes in it. Brush some EVOO all over the meat, and sprinkle all with more Garlic.
Put meat crust in oven for 12 minutes. The meat will shrink up and be about an inch smaller all the way around from where you started.
Take out and turn oven to HI Broiler, if you don\'t have a Broil feature, turn your oven to highest temp setting.
After 12 min, drain fat, pat dry the top, (I moved the meat crust to another cookie sheet) and add your toppings anything you wish, I just happened to have Bacon (of course) cooked the bacon first before the crust 🙂 Layered 7 pieces of bacon over the top of the crust, added the sausage rounds (uncured, nitrate free polska kielbasa) and topped with cheese, cheddar & colby/jack.
You can use any toppings you can think of, and you may need to precook other toppings for faster results.
For those who can\'t have cheese, just omit. Add veggies if you wish, add Sauce if you wish for a more pizza feel.
Back in the oven on Hi Broiler for 6 more minutes to melt the cheese.
Let sit for about 5-7 min after taking out of oven before cutting
Cut into 4 squares, each square was 7.25 oz of meaty cheesy goodness. I topped it with my simple salsa – http://fastpaleo.com/bigtims-simple-salsa Quite tasty.
Enjoy!!
[ingredients]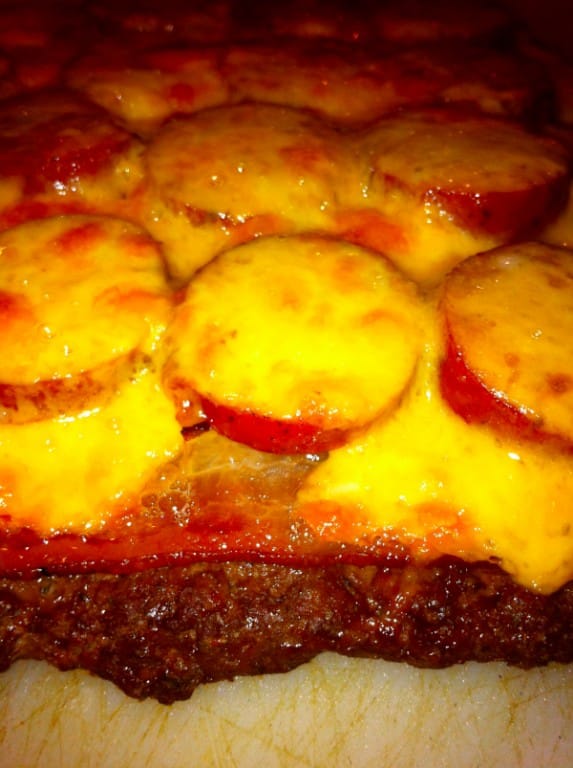 Ingredients
1.5 lbs Grass Fed Ground Beef
1 Egg
1 Tbsp Granulated Garlic, 1 Tbsp Italian Seasoning (basil, oregano, thyme, marjoram)
1 Tbsp Kosher or Sea Salt
6 to 7 slices of Bacon (I use uncured, nitrate free Bacon)
Shredded Cheddar, Colby/Jack Cheese (or any cheese you like)
Extra Virgin Olive Oil
Any other toppings you prefer.