Big Tim\'s Primalized Chili
I have made this chili for years including a variety of beans, black, white & dark red kidney, but since being Primalized, beans are now left out. You can add as many other vegetables as you like, I added the red and orange bell peppers instead of beans.
In your food processor finely dice up your white onion, I like it very fine.
In a large stock pot, combine your coconut oil, beef & bison along with the diced onion, and add your garlic. Cook meat until no longer pink. Drain half the fat out when done as it will be too soupy if you leave it in. I drained out about 2 cups of fat, and there was still plenty in the pot. Turn heat off meat and add all other ingredients.
For the tomatoes, clean and cut them in half…You can substitute the 5 tomatoes for 1 large can of organic tomatoes, but I used fresh. Either way you will put them into the food processor and puree them up. Take the puree and add to the meat.
Add the 6oz can of organic tomato paste
Add all of your dry spices. Chili Powder, Salt, Pepper, Basil, Oregano, Cumin, Paprika, Cayenne & any other hot spices (optional).
Add Worcestershire, & Tabasco.
Stir all mixture together and bring to a boil and simmer for 1 hour stirring occasionally.
After 1 hour now begins the adjustment to taste. I will balance the heat with the honey, gives it just a tiny bit of sweet to balance the heat. If I want more heat, I\'ll add more tabasco and worcestershire, it all counterbalances, if needs more salt, add more salt. Simmer another 30 minutes or so, and re-taste, should be about perfect at this point. It has a good bite but for me it\'s pretty mild.
Take off heat, let pot sit for about 20 min before eating. The longer it sits, the better it gets!! Kinda like my salsa 🙂 If making for yourself, you\'ll have meals for a week.
Note!!! I like my chili EXTREMELY hot!! Most humans can\'t handle it, but I have some crazy people I work with who can\'t get enough of the heat, so it\'s been a competition over the years to see how hot I can get it. If you choose to you may add your favorite hottest peppers, jalapenos, serranos, habaneros, and if you can get them, and I have…Ghost Chili\'s!! I go nuts with it, so if you like it hot, just add whatever you like for your heat!!
Makes a great Omelet stuffing or toping on eggs!!
Enjoy!
[ingredients]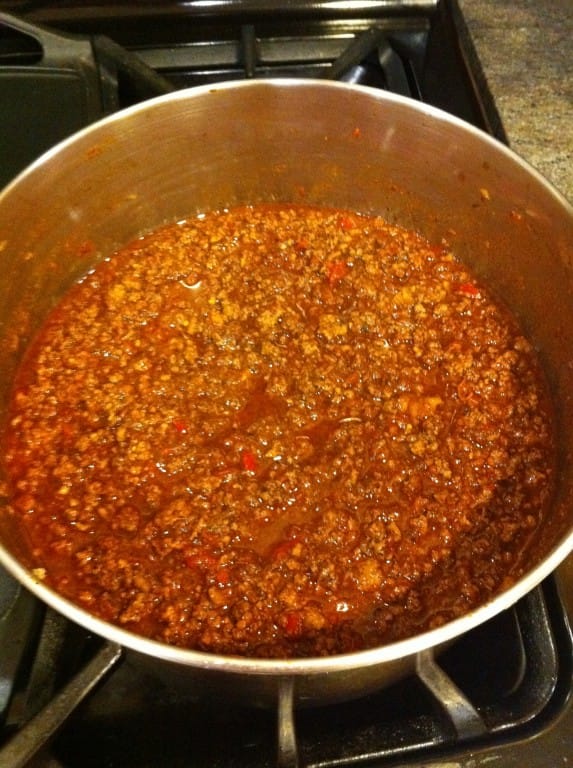 Ingredients
2 lbs grass fed ground beef
1 lb grass fed ground bison
1 medium white onion, 1 red bell pepper & 1 orange bell pepper
3 tbsp Coconut Oil, 2 tbsp minced garlic
5 Vine tomatoes & 1 6oz can organic tomato paste
6-8 tbsp Dark Chili Powder
2 tbsp Kosher Salt, 2 tbsp Pepper, 1 tbsp Cayenne Pepper
1 tsp of each, Basil, Oregano, Cumin, Paprika
5 tbsp Worcestershire, 5 tbsp Tabasco Sauce
2 tbsp 100% Raw Organic Honey