BigTim\'s Crock-pot BBQ Beef
Mix all of your dry spices into a bowl.
Cut up onion into large chunks.
Cut up peppers into long slices
Cut chuck roast into 4-6 large pieces and season each piece with the dry spice mixture. Coat everything really well.
Into your Crock Pot put half of the meat pieces in. Top with half the onion and peppers, put the remaining meat pieces in along with rest of onion and peppers. Pour in the water of beef stock.
Cover and cook on low for 6-8 hours.
When done, take meat pieces out and shred with 2 forks, take 6-8 large spoonfuls of the meat juice to top the shredded beef. Coat with homemade BBQ sauce…recipe used is the SON OF GROK\'S Zesty BBQ Sauce. Thanks to civilizedcavemancooking.com for that link!!
http://www.sonofgrok.com/2009/06/sog-zesty-bbq-zauce/
Pour out juice from crock pot, put BBQ covered beef back in crock pot on low for 30 min. Serve and eat any way you wish, wrapped in lettuce, or in a salad or with your favorite vegetable.
Tim 🙂
[ingredients]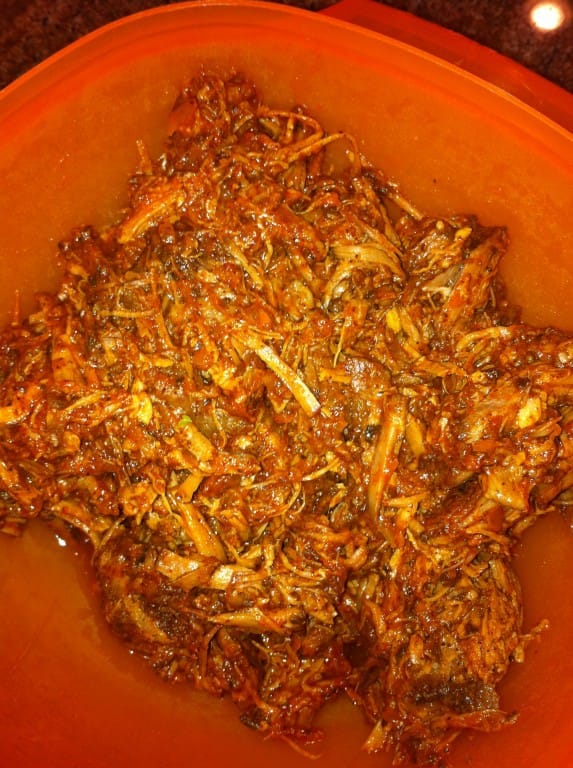 Ingredients
3-5lb boneless chuck roast, grass fed if affordable.
1 large white onion
1 red & 1 orange bell pepper
1 tsp dried basil, 1 tsp dried oregano
2 tsp granulated garlic or garlic powder
1 tsp kosher or sea salt
1 tsp black pepper
1 tsp paprika
1 tsp chili powder (optional)
1/4 water of low sodium organic beef stock (I used beef stock)