It takes longer to prep then it does to make it. There are only 7 ingredients total. I made the batch in the picture yesterday in 30 min time from start to finish.
You can choose to make this salsa one of two ways, either in a blender, or food processor. I prefer the food processor, as it makes the salsa fine and a bit chunky, the blender puree's it more. However you like your salsa is up to you ☺
Now, depending on the size of your food processor with 4 tomatoes I have to make 4 passes as mine isn't that big. Description is for 1 pass.
Clean, wash & dry all of your fresh ingredients.
Take your tomatoes and quarter them. (if you don't like the seeds guts of the tomato parts, remove them while cutting your tomatoes.) I prefer the "meat" of the tomato, as we primal people like meat haha!!
Take your onion and peel off the skin and quarter it.
Break off your cilantro in handfuls, since I have to make 4 passes, I get 4 handfuls per bunch. Put cilantro in a bowl, or just break off a handful with each pass.
Now, into the food processor goes…
4 quartered tomato pieces
1 quartered onion piece
1 handful cilantro
2 peppers, I do 1 habanero, 1 serrano cut in half each (for those who don't handle peppers often, do not touch the inside of the habanero and touch your face, rub your nose or eyes, as this will hurt!) wear latex gloves if you need to.
1 tsp minced garlic
Lime juice…if I'm doing 4 passes 2 limes work perfectly for the right amount of lime juice, remember if you use more on pass one, it doesn't matter because it all goes into a big bowl you can stir where all the ingredients get mixed together.
Kosher salt…sprinkle around the bowl, you'll use about as much as you do when seasoning meat with each pass.
Cover and pulse 3 or 4 times, then let it rip…stop after about 30 seconds, scrape sides down, go another 30 seconds & uncover and pour into glass bowl.
Repeat steps till all tomatoes, onion & cilantro used.
I usually get with 4 passes about 8 cups of salsa. Once all in the same bowl, stir to mix it all together, taste, you may need to add more salt or lime juice depending on your tastes.
Note, it tastes better the longer it sits. It's great freshly made, but after 2 days to a week, it's even more awesome! If covered well, it lasts 2 weeks in the fridge.
Spread it on your favorite meats after cooking or top on your omelets and egg dishes!! I even use it as salad dressing!
Enjoy!!
[ingredients]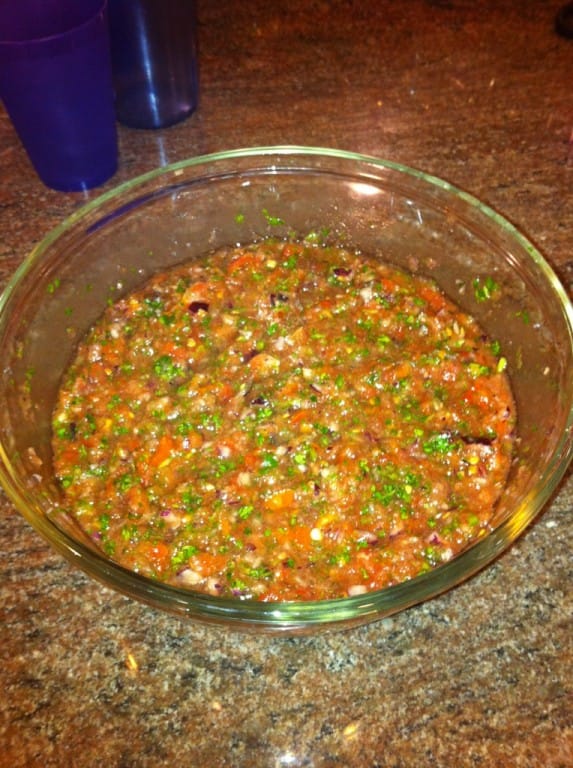 Ingredients
4 large tomatoes
1 large red or white onion (your choice)
1 bunch cilantro
2 limes
4 tsp. minced garlic
Kosher salt (for taste)
3-6 Hot peppers I prefer habanero & serrano