Black Olive Tapenade is an old standby for many gatherings. Try this recipe, do it yourself at home, and enjoy a traditional dip completely hand-made!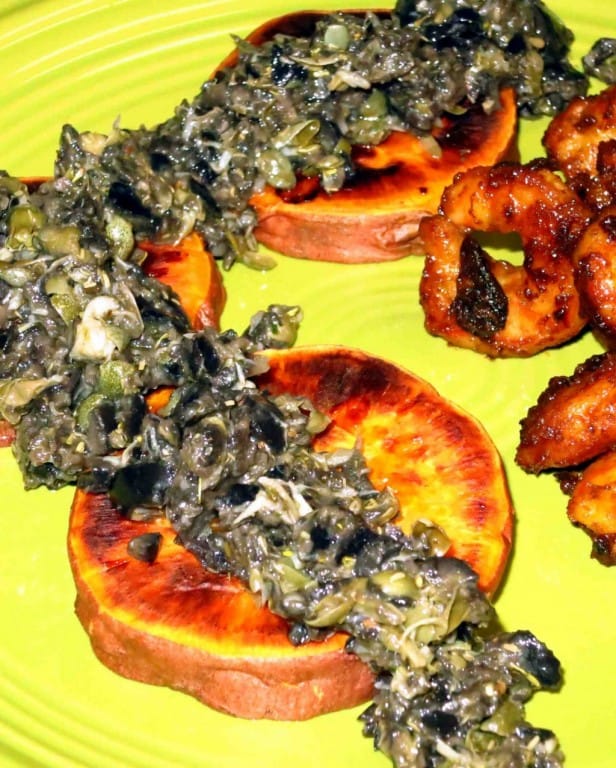 Ingredients
6 oz Black Olives
1 cup Artichoke Heart, chopped
1/2 cup Capers
2 tablespoons Olive Oil
1/2 Lime, Fresh Squeezed
1 teaspoon Italian Seasoning
Optional Seasoning: Chile Pepper, Paprika, Garlic (fresh, diced), Ginger (fresh, diced)
Directions
Chop the Artichoke Hearts as finely as you can stand and cook them on high temperature in a sauce pan, stirring constantly.
Continue to cook until the artichoke liquid has all evaporated while stirring constantly.
Once done, remove from the heat immediately (unless you're caramelizing them, in which case follow my "Caramelized Orange Peels" recipe to caramelize the artichoke hearts) and prepare the rest of the tapenade while the artichokes cool.
If whole, crush and chop the olives before adding them to the Mortar and Pestle (or blender, if you are short on time).
Add the chopped/crushed olives, capers, lime juice, and cooked artichoke hearts to the Mortar and Pestle, along with the olive oil, and crush gently until they are the consistency you desire.