Blackened Pan-fried Snapper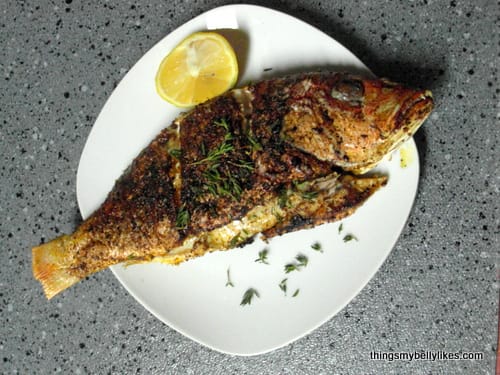 Ingredients
2 whole snapper, cleaned and gutted
2 tbsps butter, coconut oil or ghee
2 tsps paprika
2 tsps garlic powder (or minced garlic)
1/2 tsp cayenne
1 tsp dried oregano
1 tsp thyme
1 1/2 tsp sea salt
Directions
Pat the fish dry and sprinkle with a little salt. Make two or three diagonal slits along the flesh (starting near the head).
Melt the butter in a large frying pan then pour it into a bowl. Mix the spices together. Liberally brush the fish on both sides with butter and follow with a generous dusting of the spice mix.
Heat the pan over a high heat and add the snapper. Fry for 5-7 minutes on each side then serve with a wedge of lemon.