Blodpudding (Blood Pudding)
I dare you to try this traditional Swedish dish!
Don't let the name or main ingredient scare you, it's both nutritious and delicious and I promise it's nothing like what you are picturing right now.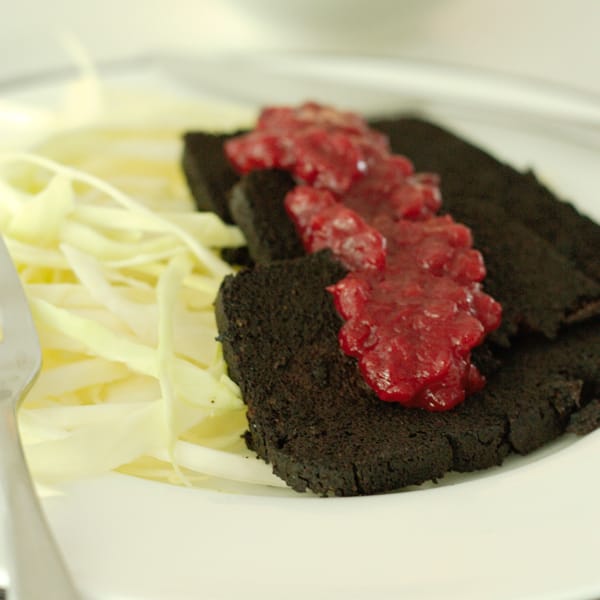 Ingredients
1 quart (1L) blood (pigs or beef)
2 cups (5 dl) beef stock
3 eggs
0.5 cup (1 dl) coconut flour
1.3 cups (3 dl) almond meal
5oz (150 g) butter or ghee
1 pear (finely minced)
1 apple (finely minced)
1 teaspoon sea salt
1 teaspoon ground ginger
0.75 teaspoon ground white pepper
0.75 teaspoon ground cloves
0.75 teaspoon ground allspice
2 teaspoons dried marjoram (powdered in a mortar)
Directions
- DAY 1 -
Turn your oven on and set it to 350F (175C).
Put the stock and the butter/ghee in a pot and heat it up just enough for the butter/ghee to melt, then put aside.
Blend all spices in a small bowl.
Pour the blood into a large bowl.
While whisking, first add the buttered stock, then the coconut and almond flour, then the three eggs, then the minced apple and pear, and finally the spices.
Grease a 2 quart loaf tin then pour the blood mixture into it, almost all the way up to the rim (leaving an inch (2.5 cm) or so).
Tightly cover the loaf tin with aluminum foil, and place it on a deep oven tray.
Pour boiling water into the oven tray, making a water bath for the loaf tin.
Put the tray in the oven and bake for an hour.
After an hour, check that the blood pudding is done by sticking a toothpick into it...it should come back out clean. (If it doesn't, put it back in the oven for 10 minutes at a time until it does.)
When done, remove the aluminum foil and put a large cutting board over the loaf tin then, while firmly holding the cutting board and loaf tin together, flip it. You should now have the loaf tin laying upside down on the cutting board.
Put some weights on the loaf tin to keep it squeezed against the cutting board, the place it in the fridge overnight.
- DAY 2 -
Take it out from the fridge and gently lift the loaf tin, leaving the blood pudding on the cutting board.
Heat up some butter or ghee in a large frying pan while slicing the blood pudding in about 0.5 inches (1 cm) thick slices.
Fry the blood pudding slices on high heat until they've turned black and has a nice and almost crispy surface. (Flip them carefully, but don't worry if they break some while frying...it just gives a rustic and home made look on the plate.)
Serve with thinly sliced cabbage and lingonberry jam, or with fried apple and bacon.