Blueberry Cheezecake (dairy/egg free)
Bottom Crust Layer
•2 cups walnuts (or pecans)
•1/2 cup medjool dates
•Pinch sea salt
•optional: ½ tsp cinnamon
Line an 8" x 8" pan or springform cake dish with saran wrap or parchment paper. Or line a muffin pan with saran wrap to make 12 mini cheezecakes.
Pulse ingredients in a food processor until mixture is crumbly, be careful not to over process into nut butter. Press crust mixture into bottom of pan.
Cheesecake Layer
•1 & 1/2 cups raw macadamia nuts (or cashews) suggested you soak nuts 4+ hours
•3/4 cup coconut oil (melted)
•1/3 cup lemon juice
•½ cup maple syrup or honey
•1 vanilla bean scraped
•optional: 1-4 TBS water, as needed, if nuts weren't soaked first.
Puree cheezecake ingredients together in a food processor. Spoon onto bottom crust layer.
Fruit Layer:
•3 cups blueberries, cherries, raspberries, etc
•½ cup medjool dates
Puree one cup of blueberries with ½ cup medjool dates. Mix into remaining 2 cups fruit. Gently top cheesecake with fruit topping.
Set in fridge or freezer to set for couple hours, this cheesecake stores very well in the freezer, just let it thaw for 30 minutes or so before serving.
[ingredients]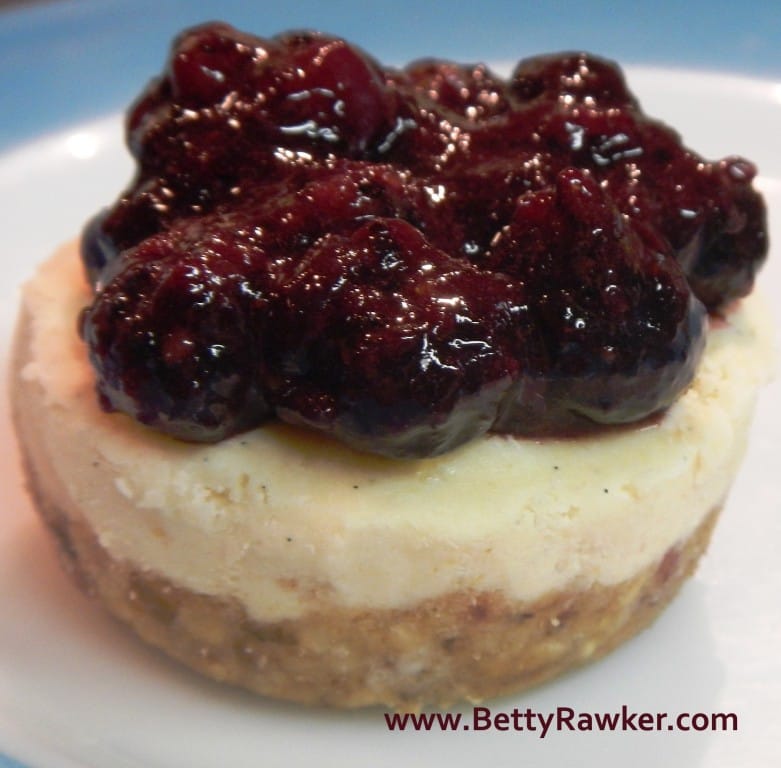 Ingredients
1 & 1/2 cups raw macadamia nuts (or cashews)
3/4 cup coconut oil (melted)
1/3 cup lemon juice
½ cup maple syrup or honey
1 tsp vanilla
1 to 4 TBS water, only as needed
see instructions for crust & fruit topping