Bright & Brilliant Blood Oranges with Rosemary & Asparagus
These gems are oh, so juicy and SO delicious!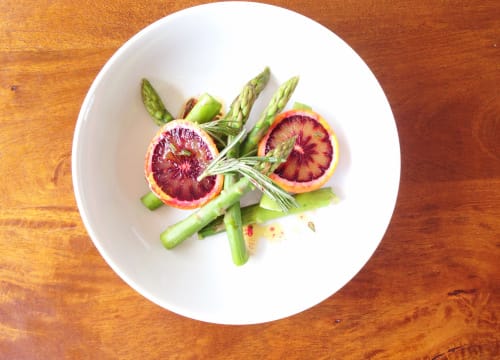 Ingredients
4 medium blood oranges
1/4 c. extra virgin olive oil
2 Tbs. fresh rosemary, minced
1/2 tsp. Himalayan sea salt
1/4 tsp. freshly ground pepper
2 lbs. fresh asparagus
Directions
Slice 3 of the oranges in half, and then juice with a citrus juicer.  Combine blood orange juice with extra virgin olive oil, fresh rosemary, salt, and pepper in a jar.  Cover tightly and shake to combine.  Set aside.

Meanwhile, trim and halve asparagus.  Over boiling water, steam 3-4 minutes, until bright green and just beginning to soften.  Immediately transfer to ice cold water and drain, to cease the cooking process.  Allow to cool.
Thinly slice remaining blood orange and toss with asparagus and reserved orange juice and olive oil mixture to "dress."  Garnish with fresh rosemary and additional (+) salt and pepper, if desired.